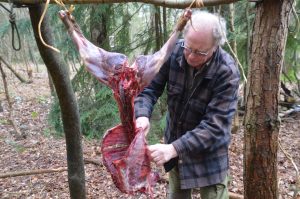 The Hangi is a traditional Maori cooking technique using heated rocks buried in a pit.   I have long wanted to have a go at this ancient cooking technique. When we received an invitation from good friends to join a weekend gathering in the woods I seized the opportunity and suggested a Saturday evening Hangi. Receiving an enthusiastic response I rang a local game dealer and enquired as to the supply of venison. "Ring back next Tuesday when the van is in, if there are any on you can have one."
Having set myself up for the event, tension mounted as Tuesday approached. "Best get down here quick, as they are all spoken for". I dropped everything and hotfooted into town, to be greeted by a long row of headless corpses hanging in the freezer. "take yer pick mate"  I selected a small Roe of about 10kg, at £3.50 per kg I thought this was excellent value, even if skinning and butchering was still to be done. As Saturday was a long way off the small deer was shoehorned into the freezer accompanied by raised eyebrows from Sarah.  A word to the wise; wrap your deer before freezing, getting the contorted frozen shape into a feed sack for transportation proved well nigh impossible.
On arrival at the wood I realised that apart from bringing the deer I had made no other preparations including failing to watch a "how to" video on YouTube.  Ah well, to quote Clint Eastwood; Improvise, adapt, overcome. A brief conflab established that between us we had enough 2nd hand knowledge to wing it.
Division of labour; one party set to digging to create the pit whilst a foraging party set off in search of stones and the makings of a large firewood pile.  Mike was despatched to the shop to purchase a quantity of cabbages and other veg.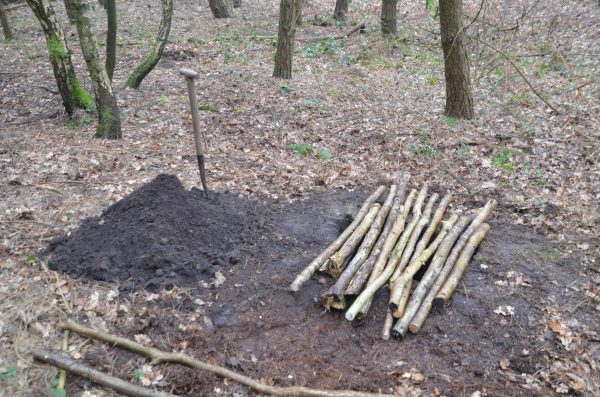 The pit was covered by a platform of sticks upon which a small fire was started. As the fire took hold, stones and fuel were added until retreating to a safe distance seemed the best idea.  The conflagration was left to do its thing whilst the deer was hung from a bough, skinned and butchered. The saddle was reserved for steaks and marinated in oil, rosemary, garlic and juniper berries, one haunch and both shoulders being chosen for the Hangi.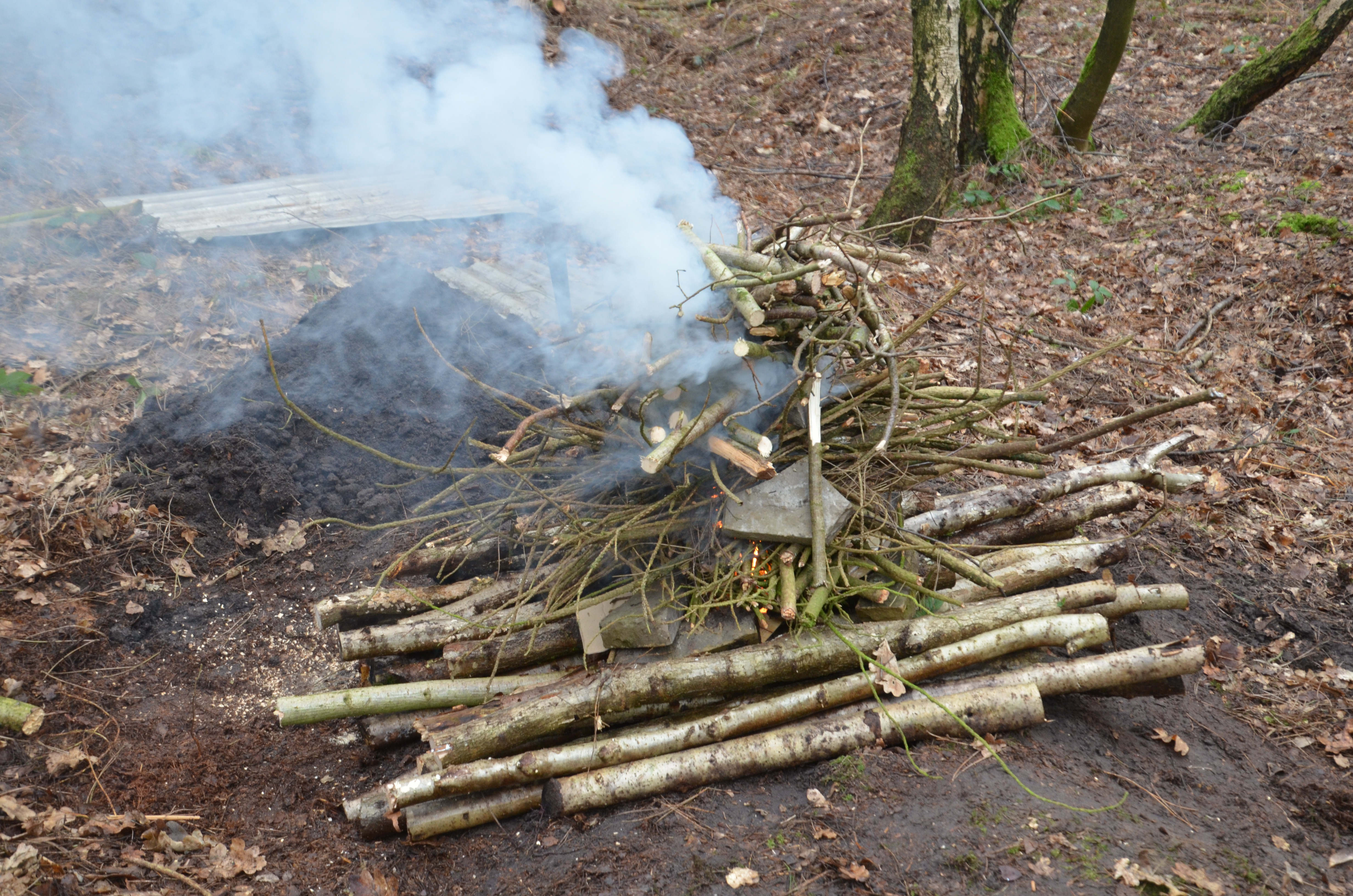 After some encouragement with a long stick the ember and stone pile collapsed into the pit and any still burning sticks were removed. All hands on deck were summoned to swiftly cover the embers and hot rocks with a mat of cabbage leaves. Quickly followed by onions, garlic, fronds of rosemary and the jointed meat. Further leaves topped everything off and the pit was covered with a sheet of tin and the excavated earth.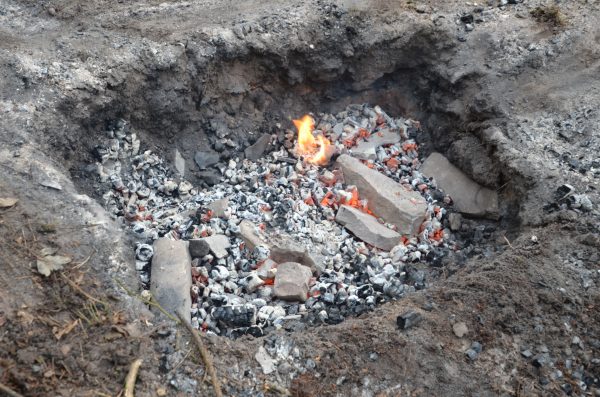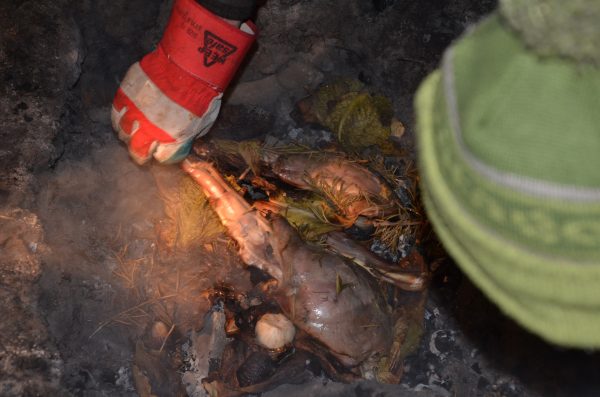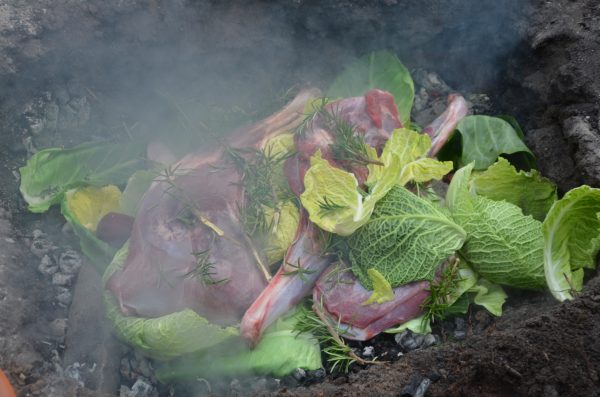 Time now for a refreshing beverage or two and a hors d'oeuvre of pan fried venison steaks. There was considerable debate over the cooking time before settling on guesstimate of two hours. At the appointed time the earth was carefully brushed aside and the tin removed to reveal our succulent feast. Proponents of plan B in the event of burnt offerings were swiftly forgiven and forgotten and our repast was presented to table.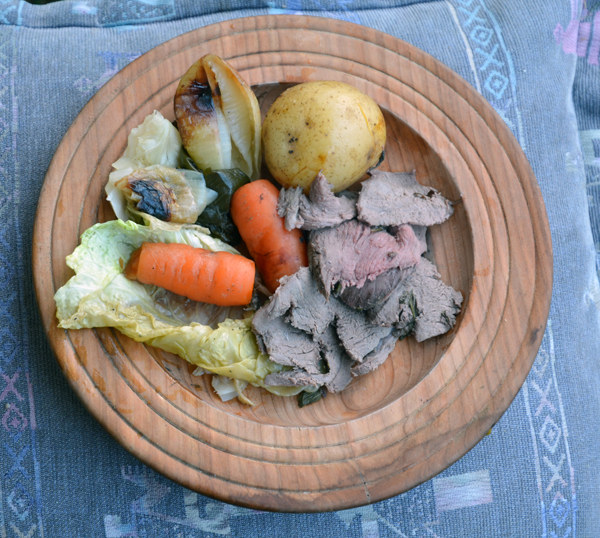 All in all, a worthwhile and enjoyable experience in the woods, with communal effort and rounded off with a fine meal around the campfire with friends. What could be better?
Leave a comment
Subscribe to our blog email updates
Managing Your Woodland for Wildlife
A new book on encouraging biodiversity in your woodland. Available free here »