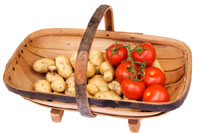 In the days before plastic containers, the "trug", a wooden basket, was the common way of carrying and measuring.  They came in every size, from tiny up to a bushel.  Although they were found all over the country, nowadays they are particularly associated with Sussex and Thomas Smith of Herstmonceux who "reinvented" this ancient style of basket in the 1820s using local materials.  Queen Victoria made the distinctive, shallow garden baskets we are familiar with fashionable when she bought some at the Great Exhibition of 1851. 
Making a trug involves traditional woodworking skills. The handle and rim pieces are split from sweet chestnut using a cleaving axe (or froe).  Held in a shaving horse (a kind of wooden-framed vice), the pieces are smoothed with a drawknife and then steamed and shaped around a former.  The handle and rim are set at right angles to each other and nailed into place to make the framework of the basket.
The boards for the body of the basket are cut from willow (sometimes off-cuts from cricket bat willow).  The thin boards are shaped and slightly tapered at the ends and then soaked in water  or steamed to make them pliable.  Then, like a clinker-built boat, the boards are overlapped and nailed into place in the frame.  The result is a very strong and durable basket. The final touch is some feet nailed in place on the bottom.  It is a clever bit of practical, traditional design that is also very pleasing to the eye.
You will often see them for sale at Wood Fairs, but there are courses available which will teach you the skills if you would like to have a go at making your own trug. 
http://www.underwoodsman.co.uk/html/courses_in_detail.html
http://www.greenwoodcentre.org.uk/4NovMakingSussexTrugs18-19April2009.php
Leave a comment
Subscribe to our blog email updates
Managing Your Woodland for Wildlife
A new book on encouraging biodiversity in your woodland. Available free here »