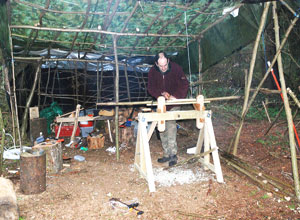 A priority when staying out in the woods is a good water and wind proof shelter
The following photos show the construction of a hazel wood shelter to sleep 2-3 people.
We are out a lot, so we built it to last.
The photographs in the 'strip' below show the various stages in the construction of the shelter.




Various sizes of straight hazel poles, sisal twine or Para cord, and a camo tarp to fit the size.
1.  Find a dry area as level as possible and clear of debris.




2. Construct a simple frame about 6ft x 8ft and tie poles at roof level. Leave about 2ft overhang at the front for the canopy. Put in an upright at the centre back.
At the base of each upright drive in some sturdy floor supports (level them. (We used a water level).
nb. You need to be about 6 to 9 inches off the floor.
3. Photo showing front view with floor supports and first floor pole.
Put 3 more floor supports down the middle in line with the outside ones.






4. All the floor supports in, now begin to cover the floor area with similar sized poles, keep them reasonably level by notching out the undersides, and using wedges as you progress. Alternate thick and thin ends to help the levelling process.
(It's well worth the effort to have a nice level sleeping area).




5. Floor done, start the roof by securing two more roof poles to run parallel to the original ones:
(see photo and drawing [drawings at end] ).
When placing roof struts, use two together, thick ends on each side.
Tie them at several points making a nice arched roof structure. You will need to have about 8 roof struts and 2 for the canopy. When roof struts are done, tie thin poles lengthways to secure everything. (See last photo)




6. Finally, when you are happy with the rigidity and all sharp ends are trimmed, cover with a camo tarp. See method of securing tarps - drawing below.
Sleep Tight!
The Down To Earth Team.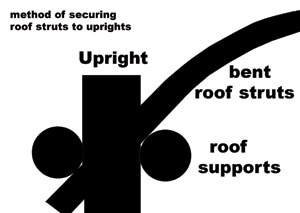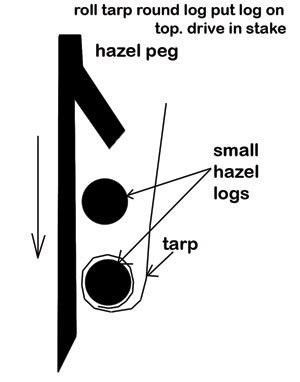 Leave a comment
Subscribe to our blog email updates
Managing Your Woodland for Wildlife
A new book on encouraging biodiversity in your woodland. Available free here »