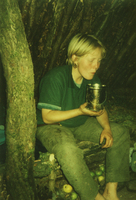 A few years ago I put myself in the position of living off the land for three days, living in a house which I had made out of sticks, and having to boil water to make it safe to drink.  My bed was a mattress of birch twigs and my diet for those three days were wild foods I gathered as I went walkabout.
 
It was an interesting experience.  My mind first questioned why there was not much food, and my body had to cope physically without my usual eating habits for an average day (which at the time consisted of anything from Marmite on toast, having a banana whenever I felt like it, a full roast for lunch and processed foods for snacking).
 
But I accepted the "new" foods I had at the time and appreciated their delicate tastes. I gave time to every single daily task I carried out, and was learning to survive without having water on tap, a fridge full of food, a mobile phone and watching the news on TV.
 
I learnt a lot about myself - my strengths and my weaknesses.  Surviving for just three days in the wild.   It doesn't sound very long - three days. But when you are burning calories carrying out all the tasks - firewood collecting, re-thatching your shelter, digging up roots intended to be your main meal for the day and collecting your water from a stream in just a billy can (my daily routine) - you soon come to realise what is important in your life and what really matters.  To survive.
 
I wrote a diary and it was interesting how my train of thought changed, even my writing took became more like how I had written as a six year old.  Getting lightheaded, I fell into a bed of nettles and, on one occasion, accidentally knocked over my pot of rabbit stew!
 
But things started to change. I began to notice more, and my senses became in tune with the wild. I was actually tracking for survival now. I found some broken cobnuts, eaten by a squirrel, that led me to a hazel tree.  The next day by chance I came across a crab apple tree.  Believe me I will never forget that moment - I thought I had struck gold!  To make them palatable, I cut them in half and cooked them on sticks pointed towards the campfire until they were roasted golden. I can taste them now – delicious!
 
Woodland survival … I was at home in the wild.
Annette Stickler teaches bushcraft skills.  Visit her website www.campfireskills.co.uk for details of her courses.
 
---
---
Leave a comment