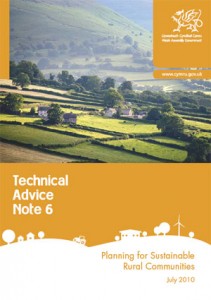 A policy for low impact, sustainable living
High on the list of questions we are asked by prospective woodland buyers is whether it's possible to live in a woodland.  The answer has always been 'very unlikely': it can't be done without planning permission, and it's nearly impossible to get planning permission.
However, with the Welsh Assembly Government's scheme "One Wales: One Planet, The Sustainable Development Scheme of the Welsh Assembly Government" it may have become more feasible. The scheme addresses planning in rural areas in general, but also defines the approach to low impact development.
One Planet Developments are developments that through low impact either enhance or do not significantly diminish environmental quality.  The key requirement, for consideration as a One Planet residential development is that over a reasonable period of time (no more than 5 years) the land should provide for the minimum needs of the inhabitants in terms of income, food, energy and waste assimilation, and must be the sole residence of the inhabitants.  Any planning application must be supported by a management plan produced by a "competent person".
The Lammas Project was one of the first to get started, involving the creation of a new community on agricultural land near the village of Glandwr in Pembrokeshire. It involves the creation of an eco-village of nine families. Construction started in autumn 2009.  The text of their planning application, the first low impact application to be passed in the UK, is available on their website.
There is nothing in the "One Planet Development" policy, however, that requires the creation of an eco-village community: the policy is equally applicable to individual developments.   Please talk to us if you are interested in pursuing a One Planet Development application on any of our woodlands or meadows.
Further information
---
Comments are closed for this post.
---