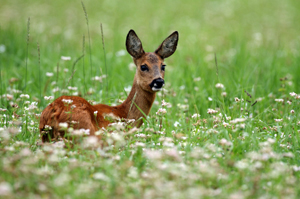 There are six species of deer to be found in the U.K. – two of which are considered native – Roe Deer and Red Deer.  The other species, Sika, Chinese Water Deer and Muntjac have been introduced in the last 150 years – and the Fallow deer is often accepted as part of our natural heritage as it was introduced back in the 11th Century.
The range of Roe Deer (Capreolus capreolus) has extended considerably in the last 40 years, as have the numbers of Roe Deer.   The natural predator of the Roe Deer is the lynx, but this does not exist in the wild in the U.K – so the population has had one control on its numbers removed.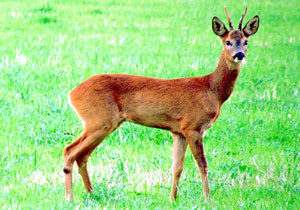 There has been concern about their impact on woodlands and the natural environment in general.  Previous studies have focused on deer damage (in general) using, for example, data from 80 Sites of Special Scientific Interest.
Now work is being undertaken by a team from Durham University and FERA (Food and Environment Agency) but focusing specifically on the effects of Roe Deer populations.   They have collected information on Roe Deer numbers, along with data on vegetation at 35 different sites (during 2011 and 2012).  Their sites are also some of the field sites for the Breeding Bird Survey so that the researchers also have access to extensive data on bird numbers.
Preliminary analysis has suggested two working hypotheses :
Sites with the higher numbers of native animals (Roe Deer)  have a poorer shrub vegetation layer, and lower number of birds – that is the roe deer are causing a reduction in the number and diversity of plants (and therefore birds, as they have less to feed on -berries, insects etc).
Roe Deer are associated with or collect in woodlands with open shrub layers – that is woodland areas with depleted vegetation 'attract' roe deer.
Georgina Palmer of Durham University is continuing to work on the data to determine whether it is the roe deer that are actually responsible for the loss of vegetation and birds.
---
Comments are closed for this post.
---