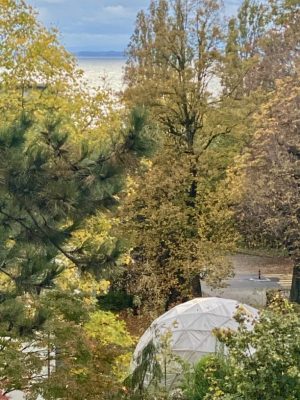 Don't go to Lausanne without dropping into the gardens - Lausanne's botanical gardens are free and central, and just a short walk from the train station.  Despite being by the centre of town, they extend to over 4 acres and they house hundreds of plants from around the world and from across Switzerland.
They call it a "living museum" and there are actually 4,000 species growing here by Lake Geneva - in rockeries, in the arboretum and in the large greenhouse.  Though when I was there,  the greenhouse was being used as a recording studio for a band - but that sort of thing is typical of Lausanne - arty, impromptu and using their space well.
Setting up this botanical garden immediately after the war (opened 1946) was a team effort by a botanist, Florian Cosandey, and an architect, Alphonse Laverriere. They made space for a herbarium, a large archive of botanical illustrations and a biology library with 35,000 works.  In recent years they have established a bee colony with several bee hives on a roof and they've started using outdoor art to liven up the terraces in the winter.
I experienced the sort of friendliness which always comes as a nice surprise if you're visiting from London - people talking to me as if I were an old friend and telling me not to miss the succulents section, with some scary cacti; or the exhibition.  Also they warned me not fall into the ponds but with my poor french I wasn't quite certain whether they were more concerned for me or for the newts.
Although you might assume Lausanne's Botanical museum and garden aren't suitable for children they are well designed for an afternoon out and there is a big children's playground next door with some unusual play equipment: maybe this helps explain why so many Swiss children become engineers.  Talking of young people, the botanical gardens organise discovery workshops for young visitors as well as guided walks and they are actively involved in conservation programmes for rare and endangered plants.
---
---
---
Leave a comment