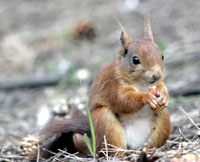 Threats to red squirrels.
The red squirrel is a delightfully charismatic species, which was once a common native over the whole of the UK, but in England is now restricted to a few small areas.  In Scotland, the situation is better, but even here there are only about 120 000 individuals. They represent 75% of the total UK population and are under serious threat, so any actions to protect them are to be welcomed.  There are two key threats,
changes to the woodlands in which they live, and
the so far relentless spread of the similar, but larger American grey squirrel.
The grey squirrel has now entirely replaced the red squirrel in most of England, with a total UK population of over 2.5 million.  Unless steps are taken to prevent it, their spread through Scotland will mark the end for red squirrels here too.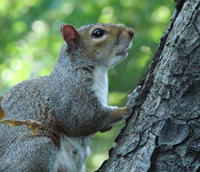 Introduction of grey squirrels.
Grey squirrels were introduced into parks in the UK in the 19th century and are able to make effective use of a variety of foodstuffs, such as acorns, that are indigestible to red squirrels.  Their larger size and higher reproductive rate also help greys outcompete reds for food and habitat, but most ominously, greys carry the Squirrel Poxvirus.  This has no effect on the carrier grey squirrel, but is rapidly and painfully fatal to any red squirrel that contracts it from the grey population.  Fortunately, not all greys carry the virus and so far, those tested in North East Scotland have been virus free, but the danger is still there.
Red squirrels are a Priority species within the UK Biodiversity Action Plan, and are specifically protected in both the Wildlife and Countryside Act 1981 and the Wild Mammals (Protection) act 1996.  While red squirrels are still common in Continental Europe, their loss from the UK would be a tragedy.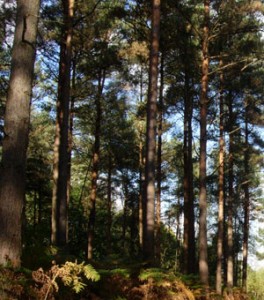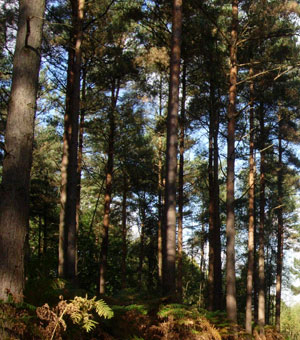 Diet and habitat preference for red squirrels.
Red squirrels are seed eaters, preferring the cones of pine, larch and spruce, but also shoots and fruits of other species, fungi and sometimes birds' eggs.  They do not hibernate but when food is plentiful in autumn, they put on weight and store food for the winter months.  Red squirrels are now largely restricted to large patches of mixed coniferous woodland, while the greys dominate broadleaved woodland.  They can live for up to 7 years, and when mature, mate between January and May, producing one or sometimes two litters of 3 or 4 kittens, which become independent at 10-14 weeks when they establish their own territories.  It is therefore important that there should be a suitable quantity and variety of food available to sustain the population. In mixed woodland, reds can manage with about 1 ha per animal, but may need around 10 ha in coniferous woodland. The larger and more efficient greys can survive at densities of up to 8 per hectare in broadleaved woodland.
Red squirrels and woodland management.
Where they are still present, woodland management to favour red squirrels should ideally aim to provide as large as possible blocks or connected areas of woodland with high diversity in tree species and age structure.  Both species and age diversity are important so as to provide a regular food source throughout the year and over successive years.  Species favoured by red squirrels are generally small-seeded, conifers and broadleaved.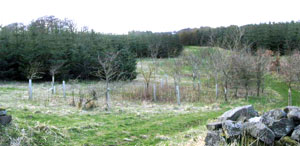 Norway spruce, Scots, Lodgepole and Corsican pines, larch and douglas fir are preferred conifers, and hawthorn, blackthorn and cherry among broadleaves. Sitka spruce is less attractive. Large-seeded broadleaves such as oak and beech attract grey squirrels and so should not be encouraged (so long as this is compatible with other aspects of biodiversity management).  Wherever possible, clear-felling of large areas of diverse coniferous woodland should be avoided. Where both grey and reds are present, protection or expansion of the red population will depend on humane control of the greys.  This can be an emotive issue, and any control must be carried out using approved trapping methods by properly trained operatives. Grant funding from several agencies is available to support creation and improvement of woodland for the benefit of red squirrels.
Protecting and saving the red squirrel in Scotland.
The Scottish Wildlife Trust's "Saving Scotland's Red Squirrels" project (SSRS), funded by the Forestry Commission Scotland, Scottish Natural Heritage and the Scottish Rural Property and Business Association, has been set up to provide management advice and actions to support the surviving red squirrel populations.  North East Scotland is fortunate in that it still has a flourishing red population and greys are mainly restricted to Aberdeen itself (where they were introduced into the city's parks).  However, greys have been spreading along the river valleys from the city, threatening our red squirrel populations.  A strategic grey squirrel control plan has been put in place with the aim of reducing and reversing this spread.  In order to determine the success of this programme, a network of monitoring sites has been set up and volunteers record the changes in the two species using a variety of methods.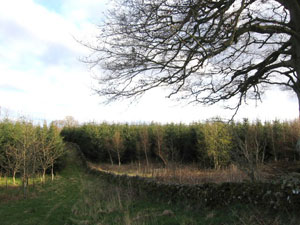 Lairshill woodland is one of the monitoring sites, and feeder boxes baited with peanuts, seeds and maize have been set up, with "sticky pads" under the box lids.  These collect hairs from the back of any squirrels entering the feeder box and under a microscope it is possible to identify whether the hair comes from a red or grey squirrel.  Lairshill lies between two areas where the greys have been spreading.  At present, it is probably too even-aged and monospecific to be ideal for red squirrels, but it is also not attractive to greys.  Sympathetic management could increase its attractiveness to the reds, without encouraging the greys to invade, although control of greys will be required if they are ever detected there.
For further details, contact the SSRS Project Officer at [email protected]
see also :   http://www.scottishsquirrels.org.uk/
Leave a comment
Subscribe to our blog email updates
Managing Your Woodland for Wildlife
A new book on encouraging biodiversity in your woodland. Available free here »