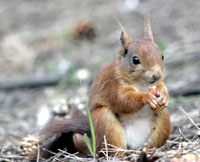 Britain has two types of squirrel, but only one of them – the red squirrel – is actually native to the country. The grey squirrel was introduced into the UK about 130 years ago. There are now some 2.5 million grey squirrels in the UK, compared to 160,000 native red squirrels.
The majority of the red squirrels are now found in Scotland, Wales and North East England, with smaller populations in places like the Isle of Wight and Norfolk (Thetford Chase).  The distribution of squirrels in Ireland may be seen here .  The number of red squirrels has fallen dramatically as it has lost out in competition with the grey squirrel, in terms of young (kittens) produced; certainly this is true in deciduous broadleaved woodland and forest. This may be associated with the red squirrel not being able to digest acorns (often plentiful in such habitats).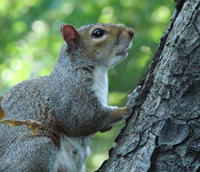 There is also a marked difference in foraging behaviour between the two squirrels; the grey squirrels spend much more time on the woodland floor than the red squirrels (and they tend to raid the red squirrels stores!). It has been estimated that only one red squirrel in six lives as long as a year.
One place in the UK where the red squirrel survives in native broadleaved woodland is on the Isle of Wight; here the grey squirrel is kept at bay.
Red squirrels are at home amongst Hazel, Beech, Scots and Corsican Pine, Sweet Chestnut and Wild Cherry, where their main food is the nuts and seeds, although they will also eat flowers and shoots from trees; and even forage for mushrooms and fungi. They are most likely to experience food shortages in early summer, when the current year's fruits and seeds are forming.
The parapox virus and the loss of woodland and forest may also have contributed to the decline of red squirrels over the last few decades. Fortunately, the red squirrel is included in the National Biodiversity Action Plan and there are a number of initiativesto help and protect local populations.
Red Squirrel week this year is 30th September to the 8th October. If you can help with sightings of red squirrel, then visit the Wildlife Trusts.
---
---
Leave a comment