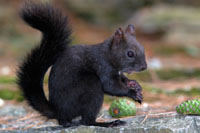 Once upon a time, we only had to worry about the impact of the imported grey squirrel on our native red squirrel (see blog https://www.woodlands.co.uk/blog/conservation/red-squirrel-grey-squirrel/  ).  However, it now seems there is another player on the scene: the black squirrel.   Whereas red and grey squirrels are two distinct species, Sciurus vulgaris and Sciurus caroliniensis, black squirrels are variants of the grey squirrel.
The difference between the two is largely due to a change in the gene (a specific sequence of nitrogenous bases in the DNA of the chromosomes) that affect the production of melanin pigments (in the hair and skin).   The black squirrel has "lost" a piece of DNA associated with these genes.  As with most genes, the melanin genes occur in pairs.  If the squirrel has one damaged gene, then the animal has brown-black fur. If, however, it has two copies of the damaged genes then it has a glossy, jet- black coat.
Some of the first sightings of black squirrels date back to the early 1900's, but in recent years they have become more common in parts of Hertfordshire and Cambridgeshire.  It has been suggested that the black form has higher levels of the male hormone, testosterone, and is, therefore, more aggressive in seeking a mate and establishing territory.  The black form of the squirrel is known in Canada and parts of the United States.
---
http://www.guardian.co.uk/environment/2008/apr/26/endangeredspecies
http://www.cambridgenews.co.uk/cn_news_home/displayarticle.asp?id=30990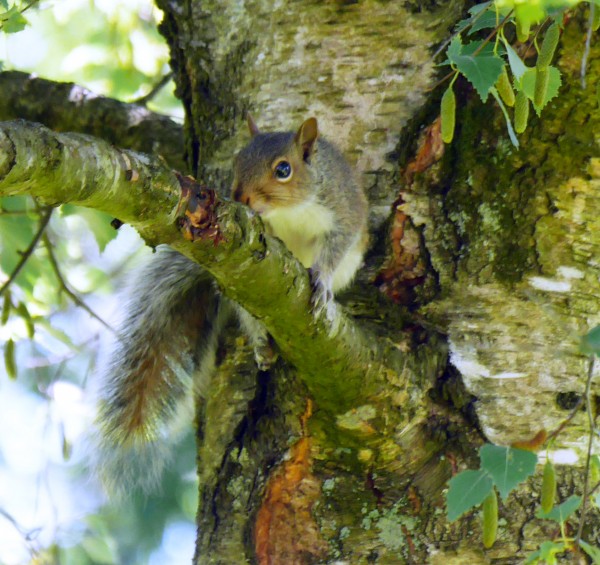 Leave a comment
Subscribe to our blog email updates
Managing Your Woodland for Wildlife
A new book on encouraging biodiversity in your woodland. Available free here »