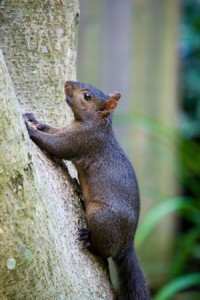 A black squirrel was first reported (in the wild) back in 1912 - in either Bedfordshire  or Hertfordshire , according which article you read!  That particular black squirrel had probably escaped from the 'menagerie' of a 'well to do' collector.  Victorians, and to a lesser extent Edwardians, were great collectors of things - both living and dead.  Vast collections of flowers, shells, butterflies, insects - were amassed by people like Charles Bailey and James Cosmo Melvill  .
The present populations of black squirrels are probably descendants of the 'escapees' / introductions from this one source and this perhaps explains why the populations are still relatively localised.  By comparison,  the grey squirrel was introduced to the U.K. on a number of occasions and hence its more widespread distribution.
It has been suggested that there are some 25, 000 black squirrels but no one really knows.  There are regular sightings of black squirrels in and around Letchworth, Hitchin and Stevenage, plus Girton near Cambridge.  A black squirrel project has now been established by Dr Helen McRobie of Anglia Ruskin University.  The project aims to plot the geographical distribution of the black squirrel, and it may also yield information about why this and the grey form have been able to establish themselves in the U.K.   To date, Dr. McRobie's work has largely focused on the genetics of the black squirrel.  The black squirrel seems to be a melanic (dark) form of the eastern grey squirrel and is 'common' in certain parts of the United States and Canada.  The mendelian genetics of  coat colour are explained on her web pages : http://blacksquirrelproject.org/node/7 .
One possibility is that the black or melanic form is at a selective advantage in terms of maintenance of body temperature.  Black absorbs heat energy more readily than lighter colours - so perhaps the very dark squirrels survive better in cold climates, or perhaps they are better camouflaged in dark and dense woodlands.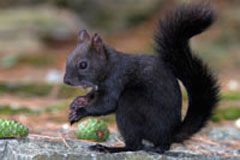 Dr. McRobie is interested in sightings of black, grey and red squirrels; details of  'when and where' may be submitted through this web link  - the black squirrel project.  She is also interested in obtaining DNA samples from various squirrels (but has been mainly limited to the DNA of roadkill to date) , so would be interested to hear from anyone who might be involved in the culling of grey or black squirrels in specific areas.
Dr.McRobie may be contacted through the blacksquirrelproject website http://blacksquirrelproject.org/
Comments are closed for this post.
Leave a comment
Subscribe to our blog email updates
Managing Your Woodland for Wildlife
A new book on encouraging biodiversity in your woodland. Available free here »