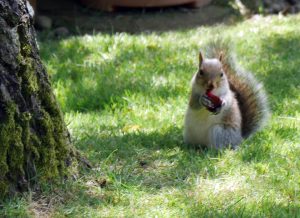 The grey squirrel (Sciurus carolinensis) is found throughout England, Wales and parts of Scotland. It was introduced between 1876 and 1930 from the States/Canada, probably on a number of occasions. In many parts of the UK they have displaced the native Red Squirrel. Grey squirrels eat an amazing variety of food – bark, buds, flowers, nuts, berries, seeds and fruit from many different species of shrubs and trees (and therein lies the problem). They will also eat insects and fungi, and will on occasions eat bird eggs or even fledglings. Squirrels are known for collecting and storing nuts in the ground. They do not remember where they put them, they rely on scent to find the stored nuts and of course, there are many that they do not find so aiding the dispersal of seeds from parent trees. Broadleaved woodland can support some 8 to 18 squirrels per hectare, but the density of squirrels is much less in coniferous woodland.
Grey squirrels damage trees by gnawing at the stem to get to the sweet, sap filled layers (phloem tissue) just beneath the bark. This tissue is responsible for the movement of sugars around the plant (known as translocation). If this gnawing extends around the stem so the tree is 'ringed' i.e a complete circle of bark and underlying tissue is removed, then the movement of sugars around the plant will come to a halt and the tree will die. Removal of any bark and associated tissue will check or restrict the growth of trees.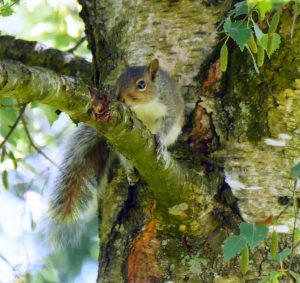 This bark stripping occurs between late April and the end of July. Very young trees or saplings (stem diameter less than 5 cm) are generally not attacked as they cannot support the weight of a squirrel, the main stem of older trees (40 years+) are usually safe as the bark is too thick for the squirrels to strip. The most vulnerable trees are sycamore, beech, oak, sweet chestnut, pine, larch and Norway Spruce, aged between 10 and 40 years old; though almost any broadleaved species of tree can be attacked. Bark stripping is a problem in woodland where the squirrel numbers are greater than 5 squirrels per hectare. The risk of damage may be greatest where there are vulnerable trees next to mature woodland that produces a good seed crop, which in turn supports a high density of squirrels.
Some of the damaged trees will die, some will succumb to fungal infection. Where the fungus enters, the wood will become stained and may rot. In many cases, the stems will be deformed which reduces the value of the timber. If branches in the canopy are attacked, dieback may result and again the quality and quantity of timber produced is affected.
Control of squirrel numbers is difficult. Control aims to reduce tree damage by bringing the number of squirrels to below 5 per hectare. However, it is important to remember that grey squirrels are highly mobile as a species and a non-isolated woodland can be re-colonised within a month; and even one that is isolated will have new resident squirrels within three months. Control measures should aim to ensure that the number of squirrels is at a minimum when bark stripping activity is at a maximum.
Details of trapping and control procedures can be found here. There is presently an initiative to reduce the numbers of grey squirrels in England. The cull is being organised by DEFRA and the Forestry Commission, and will run for three years. In the longer term, the possible control of grey squirrels through immuno-contraception or the use of a genetically engineered bacterium or virus is discussed in another Forestry Commission paper.
---
---
Leave a comment