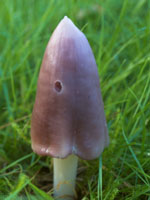 Mushrooms and toadstools are common at this time of year.  They are the visible evidence of fungi; the fruiting (spore-producing) bodies of fungi growing in the soil, leaf litter, or bark of trees. Nature's 'recycling depot', bacteria and fungi are essential to the decomposition of plant and animal remains. Many local natural history societies organise fungal forays at this time of year, as do a number of the National Trust properties.
At the National Trust web site, there is an excellent guide to the fungi¹ known as Waxcaps. These often appear in lawns and their shiny caps vary considerably in colour – from green to pink! Their colour may change as they age and mature – thus, dry weather seems to make them a bit paler. The pink wax cap (or ballerina) is quite distinctive and is the only bright pink toadstool found in the UK.  There are some 40 different species of Waxcaps in the UK belonging to the genus Hygrocybe. To download the National Trust guide to Waxcaps, go to http://www.nationaltrust.org.uk/main/w-waxcap_leaflet.pdf . Waxcaps tend to grow best in lawns or grassy areas, where the turf is short, so the surroundings of historic houses and churches are a good place to look, as are cemeteries and parks. It is thought that Waxcaps are in decline (like so much of our flora and fauna) as much of their habitat is being disturbed or being lost through lack of care. The National Trust would appreciate your help in mapping the Waxcaps at their many properties, so if you are visiting a National Trust property consider taking a notebook and pencil to record :-
the colour of the toadstool

where you saw it

when you saw it
And then send them your findings . The results will be used to determine where there are large numbers of waxcaps at National Trust properties, and then these will be targeted by in depth surveys in Autumn 2008. If you're stuck for ideas for Christmas presents, then have a look at their online shop.
For more detailed information about waxcaps, visit http://www.aber.ac.uk/waxcap/what/index.shtml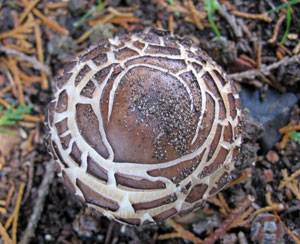 For background information on fungi http://www.naturegrid.org.uk/biodiversity/crypfungi.html
---
¹ What is the difference between a mushroom and a toadstool?
For an answer, have a look at this page on the BBC site where it says "There is no scientific difference between a mushroom and a toadstool; an edible fungus is usually referred to as a mushroom, whereas an inedible one is usually referred to as a toadstool. As with so many aspects of the study of these amazing organisms, however, even this is not always the case."
Note: there is no simple way to determine which are poisonous and which are edible; knowledge and training are required.
Leave a comment
Subscribe to our blog email updates
Managing Your Woodland for Wildlife
A new book on encouraging biodiversity in your woodland. Available free here »