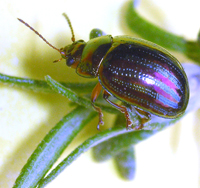 In recent years, there has been a new entrant to the RHS list of top ten garden pests. Its 'top ten' list is based on the number of inquiries that it receives to its advisory service. The newcomer is the rosemary beetle, Chrysolina americana.  Despite the implication, from its scientific name, that it is American in origin, it actually hails from Southern Europe.This beetle has now become established in the London and the Home Counties, Norwich and a number of other places - map available here.
The adult beetle is about 8mm in length, and is a metallic green colour with purple stripes. Its larvae or grubs are greyish white with darker lines running along the body. The life cycle of the beetle is under study at the entomology laboratory at Wisley.
Initial observations suggest that adult beetles are relatively inactive on the host plants in June through to August, but that they begin feeding again in late August and September.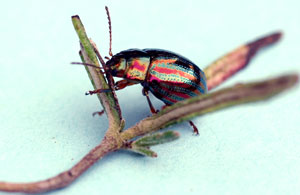 During this time, they mate and lay their eggs on the underside of leaves (these are about 2mm in length and sausage shaped). They continue to mate on warm winter days through to the Spring. When the eggs hatch, the larvae feed on the leaves for about three weeks and then enter the soil to pupate. This stage of internal reorganisation lasts about two to three weeks and then the adults emerge, returning to the host plants. Where the beetles / larvae feed on a leaf, it may turn a brown grey colour where tissue is damaged; the leaves may be reduced down to shortened stumps.  
The beetle is recognised as a pest mainly on Rosemary (Rosmarinus officinalis) and Lavender (Lavandula sp). However, it can also use Thyme (Thymus sp) and Sage (Salvia sp) as a host and there is a concern that it may be able to use other plants of the Lamiaceae (Labiate) family.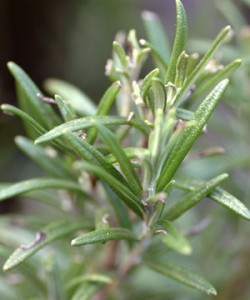 The beetle can be controlled by 'hand picking' of the beetles and grubs from the plants (or by using insecticides). However, bearing in mind that these plants are favoured by bees then pesticides should not really be used when the plants are in flower. As the beetles tend to be active in late summer / early autumn, then this might be a better time to apply insecticide.
To report a sighting of the beetle to the RHS, you can use this link (opens a new page)
Further work on the rosemary beetle is being carried out at the John Innes Centre at Norwich by Dr Ian Bedford 
---
---
Leave a comment