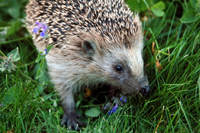 The number of hedgehogs has declined in recent years. This is evidenced by surveys like that of the Mammals Trust UK, which has undertaken road surveys since 2001. Figures suggest that the hedgehog population has fallen significantly in the last few years, in some areas of the East and South East the fall in numbers has been particularly dramatic (see http://www.mtuk.org/content/press/2002-09-05-hogsurveyresults.pdf).
The hedgehog is our only spiny mammal; it is covered in brown, sharp spines and can roll up into a ball so as to protect itself from predators, such as foxes and badgers. Hedgehogs feed mainly at night (especially after rain) on worms, beetles, slugs, snails and caterpillars. The use of insecticides and slug pellets in suburban gardens may have contributed to the fall in hedgehog numbers. The use of these substances means that there is less food available for hedgehogs. It is important that they feed well before winter in order to build up their body fat to enable them to hibernate through the cold winter period.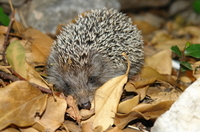 The installation of decking and the general tidying up of gardens means that gardens now offer a less favourable habitat for hedgehogs. The natural habitat of hedgehogs is hedgerows and the edges of woodlands, where they nest. If you want to encourage hedgehogs then don't be too tidy in the garden; leave a rough shrubby area where there are plenty of leaves and twigs for them to use in making a nest.
The decline in hedgehog numbers in rural areas is not understood though a significant number are killed on the roads; climate change may also be a factor in that it may lead to warmer spells during the winter and hence increase the number of times they awake from hibernation (when there is little or nothing for them to eat). For more information on hedgehogs, the links below offer some starting points.
Leave a comment
Subscribe to our blog email updates
Managing Your Woodland for Wildlife
A new book on encouraging biodiversity in your woodland. Available free here »