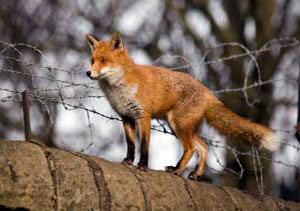 In this country, like others dependent on the internal combustion engine, many animals are killed or wounded on our roads.  One of the first people to comment on the significance of roadkill was the American naturalist Joseph Grinnell; he estimated the mortality count in California (back in 1920 !!) ran into the hundreds if not thousands of animals every day.
Here in the U.K. statistics collected by the PTES (People's Trust for Endangered Species) indicate that rabbits are the animal most commonly killed on the roads, followed by the hedgehog.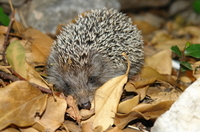 Their statistics are important as they are one way of monitoring the status of the country's animal populations.  The PTES has expressed concern about the state of the hedgehog population – as the percentage of hedgehogs in the roadkill has dropped.  This probably means that the overall hedgehog population has fallen.  Compared to 2001, the percentage of hedgehogs in roadkill has declined by 7.5%.



The 'pecking order' for roadkill (in the UK) is
Rabbit
Hedgehog
Grey squirrel
Fox
Badgers
Whereas in the United States (figures for New England) the order is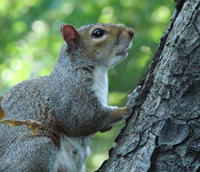 Squirrels
Cats
Rats
Opossums
Raccoons
The PTES survey started in 2001 and is dependent on 'volunteers' recording sightings of roadkill and other information.  It runs for 3 months each year – July, August and September.  Details of the survey can be obtained here; their survey pack includes a useful mammal identification guide.  For the technologically enthusiastic, it is said that the survey this year may also appear as a mobile phone 'app'.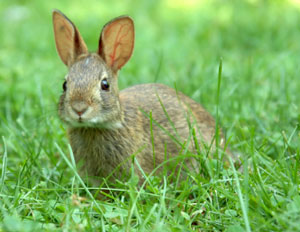 The number of rabbits in roadkill indicates that the population in some parts of the UK is quite significant.  Whilst rabbits are responsible for economic losses in farming and forestry, they also have a role in helping to maintain chalk grassland in some areas through their grazing activities (and help support population of other wildlife species such as stoats and foxes).
Populations of any animal can fluctuate widely and quickly, especially in the face of epidemic disease.  The rabbit population of the UK fell by over 90% when exposed to the myxomatosis virus in the 1950's; now rabbit haemorrhagic disease (RHD) may prove to be a significant threat.
A number of books have focused on the issue of roadkill, for example, 'Flattened Fauna' by Knutson is available from a variety of sources, for example : here.  Facebook and Flickr also feature pages / groups that deal with roadkill.   Roadkill is also referred to as 'flat meats' by some and there are a number of websites devoted to the cooking of animals killed on the roads / by vehicles.
---
---
Leave a comment
Subscribe to our blog email updates
Managing Your Woodland for Wildlife
A new book on encouraging biodiversity in your woodland. Available free here »