News of biological threats to our trees has not been so evident recently, in the face of imminent consideration of our place in Europe, and the very real terrorist threats. The range of pests and diseases that are making their way to our shores is ever growing, however. Whether that is due to climate change, globalisation of markets and importation of trees grown in other countries, or other factors is open to some debate, but probably all have an impact.
In some areas, it is no longer feasible to effectively fight the spread of certain diseases. In some parts of Wales, for example, Phytophthora ramorum infection of larch is now so widespread that Natural Resources Wales (which includes what was Forestry Commission Wales) are no longer issuing instructions (Statutory Plant Health Notices) to fell infected larch trees. Only to restrict movement of any trees that are felled, if infection is detected.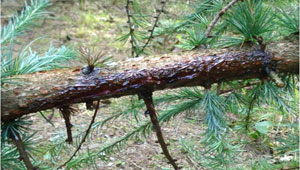 For most people, occasionally visiting one or two woodlands, or working in your own woodland, the risks of contributing to the spread of tree pests and diseases is probably pretty small. A few small precautions would be good practice: basically transporting soil and vegetation from one woodland to another, and it doesn't require any special equipment or chemicals: a stiff brush and water is all that is needed. As a regional manager for Woodlands.co.uk, however, I find myself visiting or working in a far higher number of woodlands in the course of a year than most people: maybe a hundred or more across Wales and the Welsh Marches (West Cheshire, Shropshire and Herefordshire) in an average year. Together with my colleagues, we are at greater risk of spreading some of these pests and diseases around the woods we work in. Especially if we are working in locations which are known to be infected.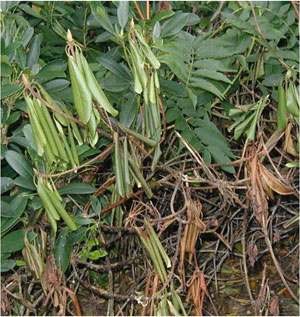 At our recent annual conference in Wales, we took the opportunity to review biosecurity best practice, as published by Natural Resources Wales and the Forestry Commission. We are all now equipped with "Cleankill Sanitising Spray" for disinfecting tools and boots when we know we have been in contact with infected trees.
The Forestry Commission lists the top tree pests (7) and diseases (12) that are in the UK now, and a further 9 that haven't got here, yet.
Both the Forestry Commission (for England and Scotland) and Natural Resources Wales offer guidance on good biosecurity procedures:
https://naturalresources.wales/forestry/tree-health-and-biosecurity/?lang=en
http://www.forestry.gov.uk/biosecurity
Threats to our trees are not new (Dutch Elm Disease is the first I recall being aware of) but while some of these diseases are wind-borne, a little thought and a few minutes preparation can help to make sure we are not facilitating the spread.
---
---
Leave a comment