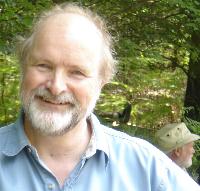 A new book about the practicalities of managing your woodland, called Badgers, Beeches and Blisters - Getting started in your own wood has been launched this week. It was written by Professor Julian Evans and sponsored by Woodlands.co.uk. Julian was the Forestry Commission's Chief Research Officer but he is also the owner of a woodland in Hampshire. This combination of technical knowledge with hands-on grittiness makes the book a great practical guide for the new woodland owner.
Written collaboratively with the Woodlands.co.uk team, it addresses the concerns and aspirations of the hundreds of people who have bought woods of their own. We have also arranged for the book to be available cheaply - only £8.95 including postage and packing - or freely from our website. If you want a "hard" copy please visit this website.
Badgers, Beeches and Blisters was launched this week, on 7th June 2006, at a Royal Forestry Society event in the Buckhurst Estate near Crowborough. The event highlighted the frustration many large estate owners feel in finding timber production so uneconomic. There were many interesting observations and numerous suggestions of what could be done to improve British woodlands further: one of the speakers pointed out that owners of smaller woodlands, putting in their own time, can afford to get work done which might be too expensive to justify for larger woodland owner.
As well as being a handbook for the new owner, Badgers, Beeches and Blisters includes sections on sources of advice, tax information, a glossary, and a tree-species guide. Julian has also listed useful organisations and useful addresses. My favourite feature of the book is the line drawings illustrating many private woodland activities from camping to padlocking. These drawings are by John White and Stephen Evans.
We first met Julian several years ago at his own woodland on one of his periodic open days. Recently he has come to our Woodfair exhibitions and signed copies of his other books on woodlands. Julian will be at the Weald Woodfair near Lewes, Sussex on our Woodlands.co.uk stand in September. This will be for three days from Friday 15th September 2006 to Sunday 17th September. You can find full details here.
We think this new book will be a great help to woodland owners and anyone else involved in woodland management and hope that you will buy a copy or download it free from o
Comments are closed for this post.
Leave a comment
Subscribe to our blog email updates
Managing Your Woodland for Wildlife
A new book on encouraging biodiversity in your woodland. Available free here »