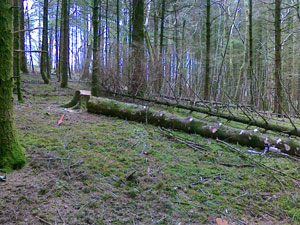 How to make a level spot in your woodland for camping
Many woodlands are on steeply sloping ground, as mine is in North Wales.  It is easy to get frustrated by this but this slopiness is often why they have survived as woodland at all - because when land was being cleared they were too steep to be "improved" for agriculture.  Slopes in woodlands can be very appealing as they often go hand in hand with spectacular views and mountain scenery. To enjoy your woodland more, however, you may want to make a level area to pitch a tent or for green woodworking. Where access is good enough for heavy machinery then large level areas can quickly and easily be created with a digger. However, in remote areas of the woodland, particularly higher up on the land, where you might want your campsite or working area, it may be impossible to get access with an excavator.   In this situation it is possible to create a good sized level patch in a couple of days with just a few hand tools that could easily be carried through the woodland, such as a bow saw, a billhook, chainsaw and spade.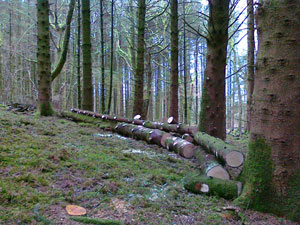 Choosing a site to level and clearing undergrowth ready to dig
In creating a flat area the first, and most important part, is to take some time to choose the best site. I chose an area with views, that was also sheltered, and where was already a natural clearing. I removed the undergrowth and enlarged the clearing by felling a few trees along its edge. These felled trees were then cut into movable-sized lengths and placed along the lower edge of the slope. I then  rolled these against some remaining trees at the lower edge of the clearing. The smaller diameter timber from the tops of the felled trees were made into stakes by cutting points onto them.  I then knocked these into the ground below the trunks to secure them further and created a log wall to hold back the soil.  I then marked a straight level line, halfway down the clearing and running across the slope.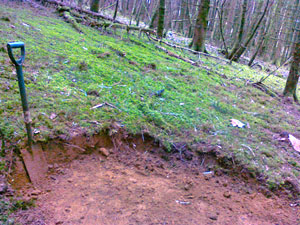 Digging out and making benches for your woodland
The next task was to dig out all the soil from above the line and use it to back-fill below the line and up against the retaining wall for tree trunks. Such a technique means that every shovelful moved is doing two jobs - taking out the high bit but also building up the lower part.  This was done using spades, shovels, a pick axe and a mattock, and if your clearing is large you might find a wheel barrow handy.
The soil was compacted by regular trampling by foot throughout the back-filling process.  The final result was a very useful level area of about 5m in diameter. This same technique could be used to make several smaller level areas for a few tents, perhaps surrounding a communal area with benches and a space for a campfire.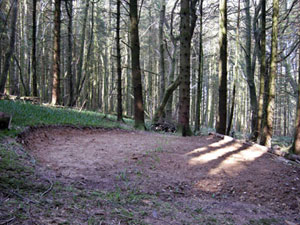 Leave a comment
Subscribe to our blog email updates
Managing Your Woodland for Wildlife
A new book on encouraging biodiversity in your woodland. Available free here »