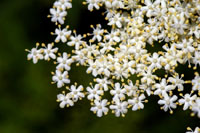 The elder is a small but bountiful tree that usually grows on the woodland edge. The tree has an abundance of history and folklore surrounding it and was long regarded as sacred, protected by the elder-mother who resided in its trunk. (Many people would not cut or burn the wood for fear of upsetting the elder-mother.)  Believed to ward off evil spirits, it was considered good luck to plant elder near one's home for protection. The word elder probably comes from the Anglo-Saxon word "aeld" meaning fire.
It has been called "the medicine chest of the common people" and the roots, bark, berries, leaves and flowers have all been used in a variety of different ways, from medicines to wines and facial toners to jams. The leaves, when bruised, keep away flies and most insects, so perfect for those balmy summer evenings in the woods! The tiny white flowers, which bloom from late May, mark the beginning of summer and there are many delicious recipes that feature them as a key ingredient. Below are two tried and tested favourites of mine.
Elderflower Cordial
For every ten flower heads I use one litre of water, 250-500g of white sugar (depending how sweet you like it) and 3 sliced and squeezed lemons.
So as not to waste the pollen, I tend not to wash the flowers, I just give them a little shake and check them over for insects. I try to use freshly opened blossoms, and not the slightly brown fading ones.
Bring the water to the boil, dissolve the sugar in it and pour over the elderflowers.  Set aside for 24 hours, stirring occasionally. Strain the liquid in muslin (or a stocking/pair of tights) and bottle into clean glass or plastic bottles. Dilute as necessary. It will keep for a couple of weeks in the fridge, or up to a year if frozen.
Elderflower Fritters
Ingredients
200g plain flour
250ml (half pint) milk
medium sized egg
Elderflower heads - 2-3 per person - with enough stalk to hold onto
50g sugar
pinch of cinnamon
grated zest of one orange
Mix all the ingredients apart from the elderflower
Heat some oil in a pan or deep fat fryer, dip flower head in batter and fry until golden brown, drain on kitchen paper, sprinkle with a little icing sugar and eat with a dollop of ice cream.
---
Comments are closed for this post.
---