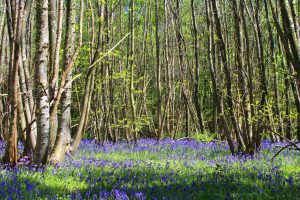 Use this method for trees which have a diameter of less than the effective cutting length of a guide bar of 18" or less, and which are not heavily leaning.
 Preparation
Clear all obstacles from around the tree first so that you can move easily and escape if you need to and establish a safe place to stand while it falls.
Remove all the lower branches from the tree
Remove the buttresses from the tree to give the true diameter ensuring that you remove them to just above ground level.  A buttress may be left at the back of the tree to provide extra leverage when using a wedge or felling lever.
Plan an escape route behind the tree, but not directly behind (slightly to the left or right)
If possible, try to fell in the direction the tree is naturally leaning
Felling
The first cut is the sink cut (front of tree) which controls the direction of the fall.  It's done in two parts using the bottom of the guide bar.  The cuts should not be more than one quarter of the tree's diameter.
Cut downwards at an angle of 45 degrees (60 degrees if downhill) ensuring the guide bar is at 90 degrees to the intended direction of the fall.  This cut may be less than 45 degrees if felling over raised obstructions so that the hinge may break earlier.
The second part of the sink cut is horizontal and must meet the 45 (or 60) degree cut exactly.
Start the felling cut (back of tree) by aligning the guide bar slightly above the bottom of the sink cut, ensuring that you are standing to the side of the tree when making this cut.  Stop cutting when there is a parallel strip of uncut timber not less than 1/10th of the diameter of the tree.  This is the "hinge".  The tree should now start to fall, so move quickly out of the way to your safe place.
If the tree does not fall, do not cut further into the hinge.  Use a felling lever or wedge.  To use a felling lever, stand firmly with both hands on the lever, knees bent and back straight, lift upwards using your leg muscles.  To use a wedge, insert the wedge into the felling cut opposite to the felling direction and drive it in using a sledge hammer.
---
---
Leave a comment