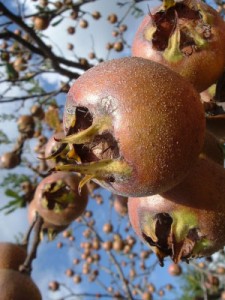 Medlars are a much under-appreciated fruit.  We recently picked a large bag of medlars which would otherwise have gone to waste and decided to make medlar cheese.  The first thing, to make them edible, is it to leave them to go soft and squishy - the medlars will change from a yellowy colour to a dark brown - this is called bletting and is essential to any medlar processing.
In our case this bletting had been largely completed while the fruit was still on the tree after the frost had got to them but we kept them a few days beyond that in the warmth of the kitchen in a well-ventilated corner.
Medlar mashing and mixing and making mushy
To get the flesh out we squeezed them to break the skin and then scooped out the insides with a spoon.  This is then put through a sieve which eliminates the five seeds and the skin from each fruit.  We also squeezed the residual skins to get the last of the flesh out - it's messy and gunky but satisfying once you have a sieved pile of medlar pulp. You then weigh the pulp and put it into a large heavy-bottomed pan with an exactly equivalent amount of granulated sugar and heat over a low heat stirring well until the sugar is dissolved.
Turning up the heat - but careful

You can then turn up the heat and continue stirring until it becomes really thick: during this process it will "plop" and gurgle.   Be careful not to let the medlar mixture splash on your face or hands as it is very hot. You need to keep at this until the mixture is really, really thick so that it won't even drip off the wooden spoon you are stirring with.
Moulds for medlar cheese
You can use a cup cake tin or a loaf-shaped tin.  You should pour the hot mixture into the lightly greased tin (we also put a layer of teflon in ours to protect the tin). Once the medlar cheese has cooled, which may take a few hours (usually overnight, while your wrists recover and you dream of a moon made of medlar cheese), the loaf will become hard and the next morning it can be sliced into chunks which are delicious.
This makes an ideal present and is a novelty for most people who have often gone through much of their life without ever experiencing Medlar cheese.  It is almost impossible to buy it commercially so you will be eating or giving away a delicacy which is unavailable in shops.
Plant more Medlars!
---
Comments are closed for this post.
---