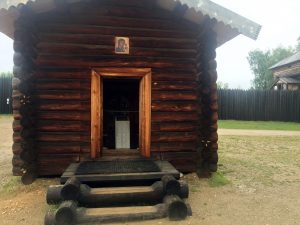 Building a log cabin in Siberia is an art that has been developed over hundreds of years and takes account of material available and the extremes of weather.  For example, it may look as though the same logs are used for the whole cabin but in fact for the bottom three layers the Siberians use larch which is more resistant to rotting and carrying water upwards.  Above that they use Siberian pine which is in much greater abundance  - indeed its availability must be one of the reasons that so many of the buildings in Russia are built of wood, even today.  Between the logs moss is wedged into the gaps to prevent draughts and to seal the building from insects.  This moss, again, is freely and abundantly available in most of Russia.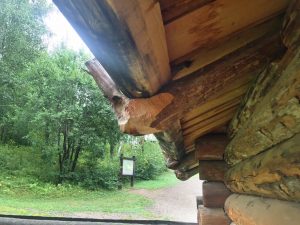 Gutters would have been made of logs with a notch cut out for the water to run along but fixing them without using metal was tricky.  This can be done by using roof trusses that end with a the stub of a branch that holds the gutter in position, that is the elbows of pine.  In fact many of the techniques for building were, like this one, developed so that the whole cabin could be built without any nails or metalwork.  One advantage of this would be to make the house moveable - and often Russian houses were moved.  Sometimes this would have been to relocate nearer to a water supply or a road - other times water could be brought to the settlement using logs cut to create a gulley or leat (see image below).
If you were building a log cabin in Siberia you would want the floor to be above the level of the snow so one can see why there would be a few steps up to the porch and the floor would be well above the ground outside.  This would also create a cavity below the cabin which could be useful for storage but which would need some vertical supports, as shown.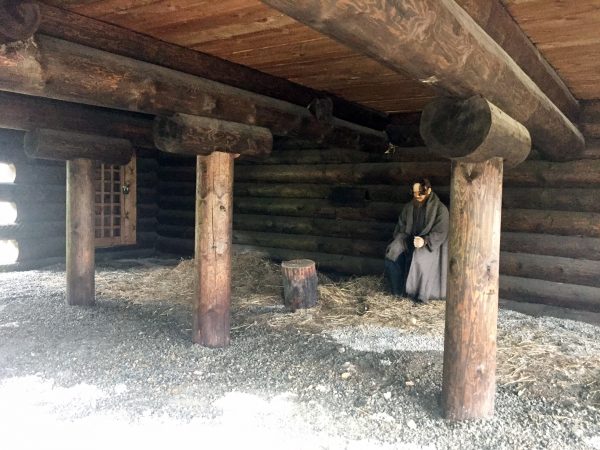 Decorations could have been made in either pine or birch and the section here shows decorated panels carved for houses in Irkutsk, the capital of eastern Siberia, and still home to hundreds of 19th century wooden houses including many that have been built in the last few years.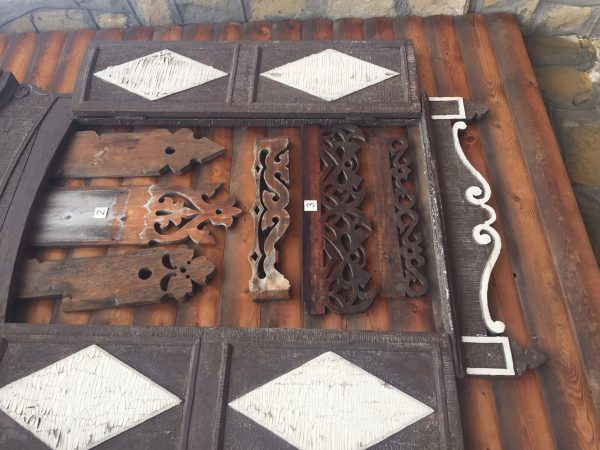 ---
Leave a comment
Subscribe to our blog email updates
Managing Your Woodland for Wildlife
A new book on encouraging biodiversity in your woodland. Available free here »