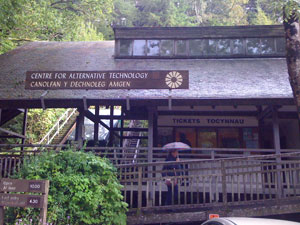 The "piss and wind centre" is what local people  used to call CAT in mid Wales because of its commitment to waste recycling and windpower, but it is committed to a lot more than that – perhaps its main mission is training.  Oxfam regularly send people to learn about water and sanitation and visitors even have a choice of using a standard toilet or a composting one. I tried both and certainly the composting one does give a double feel-good result.  In woodland training they take on young offenders as well as new owners of small woods: Bob Shaw and Grace Crabb have kitted out the place to work well whatever the weather, with green wood turning, charcoal burning, hurdle making and coppicing.
Keen and dedicated are words that describe both the Centre for Alternative Technology and our guide Grace who runs the woodland management courses here, as well as being the water and sanitation expert.  She wanted to show us everything – the woodland around the centre as well as the more remote 15 acre wood that they own.   We were looking round as part of our  annual woodlands conference (a good place for a conference if you are thinking of having one and they do terrific food – all vegetarian and very tasty!).
As she talks about the woodland,  Grace toggles happily between common descriptions ("mixed woodland") and more technical terms ("Atlantic Upland Oak Habitat, called W17").  The woodlands are being actively improved & managed; they are taking out the beech and other non-native species.  Another thing which gets removed from the woods quite often is the occasional sheep or, as Grace calls them, the "woolly maggots" - especially when they try to eat the newly planted oak and ash.  The success of their management might be measured by the variety of bird species on site.  We saw robins and blue-tits, and there are pied fly catchers, yellow hammers, choughs, peregrine falcons and jays.
Killing the rhododendron is a constant battle but Grace believes that if you cut the shoots about 30-50 cm above the ground that makes it hard for them to grow back..   It's important to suppress the "Rhodos" to stop them shading out rare ferns, such as royal fern and parsley fern which grow in the quarry.  This quarry is spectacular and was the basis of the original development here in Mid Wales: when the slate quarry became loss-making about 40 years ago,  CAT was founded.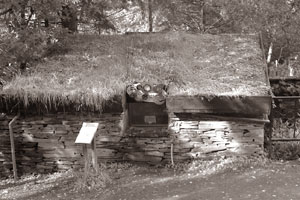 CAT is famous for the residential courses it offers on environmental building techniques and it has demonstrated many of these in its new and very large building, the WISE Centre.  Here you will find arrays of solar panels, masses of insulation, lots of natural wood, recycling of rainwater and clever use of natural light.  This is a really nice building to stay in.  The various residential courses employ most of the CAT staff, now numbering about 150; many are part-time plus they have lots of volunteers.  It is surprisingly easy to get to as it is very close to Machynlleth station – from Birmingham the journey takes a little over 2 hours on the train so that door-to-door from London took me under 5 hours.   All CAT's short courses are listed at www.cat.org.uk/shortcourses.  The ones I'd personally like to go on are willow sculptures, green wood crafts, and mushroom/fungal identification.
---
---
Leave a comment