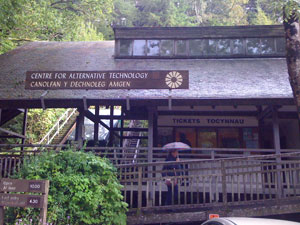 Although it's in Machynlleth, in West Wales, the Centre for Alternative Technology is an interesting visit for anyone concerned about the environment, woodlands and wildlife.  Established in the site of a disused slate quarry, CAT was set up way back in 1974 and it aims to demonstrate how what was very much "alternative technology" in the 1970s can be used in practice and can be implemented by individuals.  Within the centre there are plenty of hazel coppice hurdles (used as screens and fences), there is an office for advice on building sustainable structures, and have a permanent green woodworking demonstration area.
Woodland setting for outdoor energy demonstrations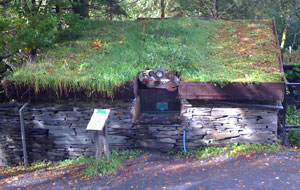 Visitors who arrive by bike or on foot save themselves £1 off the entry cost of £8.50 which for most of us - arriving by car or minibus - creates a residual feeling of guilt as we go up to the eco-centre in a water-powered cliff railway.  The exhibitions up there are mainly outdoors with solar panel demonstrations, hyper-insulated houses, composting in action (including worms), and some wind turbine displays.  Although there are parts of a full size wind turbine to see and a small wind tunnel to experiment with, CAT emphasises that people should give priority to insulation and solar panels as domestic windmills have poor output and relatively high costs.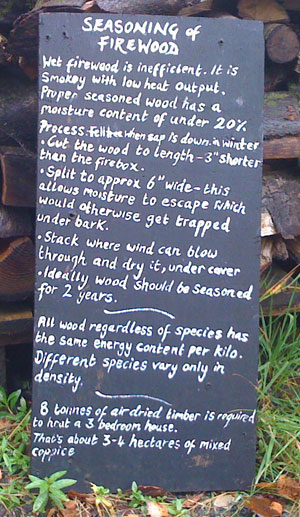 Wind powered tumble driers?
My favourite part of the centre was an exhibition of cartoon drawings by Esther Tew which showed a gentle sense of humour - she has pictures of a solar powered sunbed, a hydro powered wave machine, and a windmill powered tumble drier.  There is also a good film about global warming which puts our modern civilisation into context: it runs through the history of the earth in terms of a 100 storey office block where the creation of the earth is the bottom of the ground floor.  The dinosaurs take up floors 98 and 99 and man appears only in the last inch or two of the top floor and the period since the industrial revolution is only as thick as the layer of paint right at the top.
CAT Courses - coppice, firewood and energy systems
The centre is largely staffed by volunteers and funded by entry fees (70,000 visitors each year) and charitable donations, but it also raises funds through the more formal teaching it offers.  These are courses about installing energy systems such as woodchip boilers and courses on coppice crafts which include pole lathe turning, use of draw horses and cleaving.  If you have been on a course at CAT or just visited, please use the comments section below to tell others what you thought of it.
Leave a comment
Subscribe to our blog email updates
Managing Your Woodland for Wildlife
A new book on encouraging biodiversity in your woodland. Available free here »