Dead hedges are piles of branches and twigs arranged to form a barrier which are increasingly used as a way to dispose of the material that arises from thinning or clearing operations in woodlands. Tree surgeons call this waste material of saplings and side branches "arisings" whereas foresters tend to call it "lop and top". Using surplus branches in this way is good for wildlife - especially for small mammals and birds - because it gives them somewhere to shelter that is protected from predators and from the wind and rain. It's also good for insects: dead hedges in effect create a linear eco-pile. Recently we at woodlands.co.uk have been using dead hedging as a way of guiding the public to stay on public footpaths and to discourage people from walking across sensitive areas of a woodland. In many situations the dead hedge needs to have gaps left in it for deer paths and for managers and owners to get around the woodland.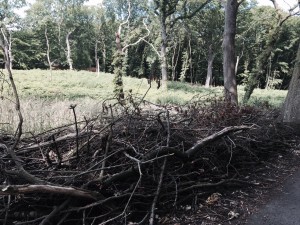 The idea is that the material in the dead hedge will rot away in ways that are good for ecosystems but this takes quite a few years as the branches are largely off the ground - it is becoming quite common to keep a dead hedge maintained by regularly putting more foliage and saplings on top. When constructing one of these barrier hedges you soon realise just how useful it is to build it very near to where the branches are, as an enormous amount of time and energy can be taken up in moving branches around your woodland. Depending on the site, the alternatives to creating a dead hedge are often unattractive - smelly bonfires, carting material off-site or leaving a forest-floor that is impenetrable by foot.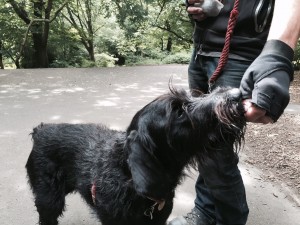 Visiting a heavily used council woodland in Highgate in London recently I saw how effective dead-hedging can be in protecting areas of woodland from being trampled. Circular dead hedges were also being used to protect ponds from dogs - I saw a tightly built pile of cut branches woven between hazel posts which had created a barrier so that the tadpoles survived being persecuted by dogs - in this case labrador-German-wire-haired crossbreed.
Dead hedging is also a very useful activity for volunteer groups in woodlands because the activities involved are fairly safe - hand cutting of small diameter branches and arranging these into piles. Such projects have a clear purpose but also a very visible result so volunteers feel they have achieved something useful in building a dead hedge. Brambles that have been cut can also be put on top but often the dead hedge becomes a lattice work which will be colonised by brambles that are very much alive - much depends on how much light there is and whether brambles are already established in that part of the woodland.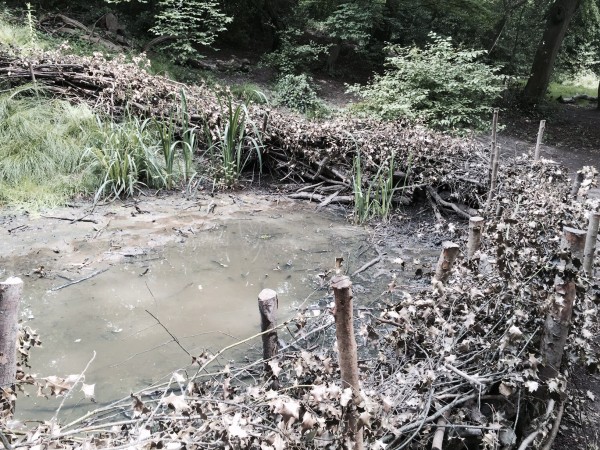 ---
---
Leave a comment