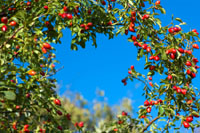 After a pretty dull and rainy summer, the woodlands and hedgerows  are glowing with colour as berries ripen and mushrooms spring up overnight. Autumn is my favourite time of year in the woods and already I'm looking to experiment with a little more than the usual blackberries, which, as always, are juicy and plentiful.
Try adding a handful of  ripe elderberries to a crumble or pie ( always make sure they are ripe and always cook them before eating to remove any traces of cyanide which may be present in raw or under ripe berries) .
Although many people find hawthorn berries a little bland or bitter by themselves, they are always so abundant I want to include them in something. They are very good for the heart and a few years ago I made a warming brandy by adding some to a half-full bottle with a few elderberries and blackberries and a good dollop of honey.  Rosehips from the dog rose are very rich in vitamin C and iron and make a delicious syrup. Below is a recipe which will brighten the greyest winter day.
Rosehip Syrup
1 kg rosehips
1 kg caster sugar 
Bring two litres of water to the boil in a large pan . Wash and chop the rosehips and add to the pan. Bring back to the boil, then remove from the heat, cover and leave to sit for about half an hour.
Strain the mixture through a jelly bag or in double layer of muslin placed suspended over a large bowl so the liquid can drip through.
Put the strained juice to one side and put the rose hip pulp back into the saucepan, adding another litre of boiling water. Bring to the boil, remove from the heat, leave to sit for another half an hour and strain as before. Compost the pulp and combine both lots of strained juice in a clean pan. Bring to the boil and keep on boiling until the volume has reduced by half. Remove from the heat and add the sugar, stirring until dissolved. Return to the stove one more time,  bring to the boil and boil hard for 5 minutes. Pour into warmed sterilised jars or bottles and seal.
 Dilute with water to taste or pour straight onto ice cream
---
Comments are closed for this post.
---