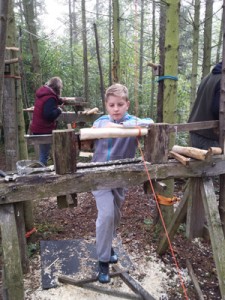 After we bought our woodland, we were given £300 by Woodlands.co.uk for a course and I chose a green woodworking course for two of us - me and my 11-year old son, Thomas. The course is designed to give beginners a taste of a variety of the skills and techniques that are used in green woodworking.  Before booking the course, I spoke to Ben at York Woodcrafts about the suitability of the course for my son; and was really pleased that Thomas could attend as he already had some tool handling skills.
During this 2-day course, our main project was each making a stool and as part of this we learnt how to select wood and understand the wood shrinkage from its green state. We split wood (Cleaving) with a Froe (a splitting chisel) and a Beetle (wooden mallet) - which really helps you understand how wood grain can be twisted, depending on where its grown.
While we were making the legs for the stools, the drawknife and shavehorse became firm favourites for tapering the mortice joints.  The base, or seat, required us to develop our skills with the sideaxe.
Thomas's absolute favourite was the pole lathe for turning the stool legs.  He was even instructing me in the set-up and use of tools after our initial training. On completion of the course we both had our very own handcrafted stool and a variety of other turned items, I only need a Froe now to go with the Beetle I made.
The course leaders, Ben, Jim and Vijay gave us some expert tuition and made the whole experience a very pleasurable one that I would recommend to anyone interested in learning a basic knowledge of green woodworking.  You can pay to go on the course even if you don't buy a woodland!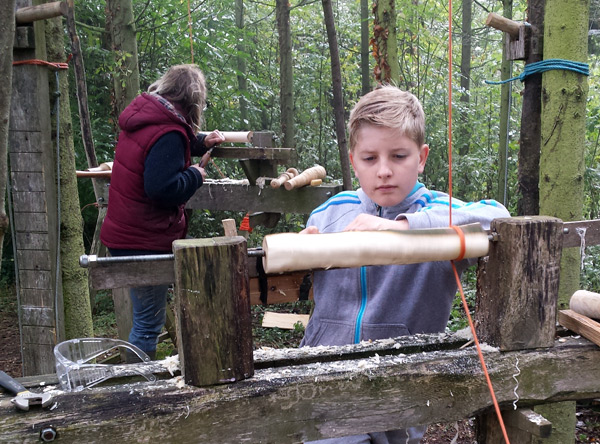 ---
---
Leave a comment