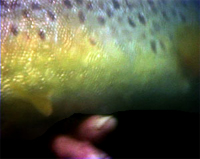 There can be much free food to be found in your woodlands, and the menu could be augmented with fresh fish, if you can master the art of trout tickling!
When you are walking along the banks of a stream or small river you will often startle a trout and it is likely to swim underneath the bank. If you lie, face down, on the bank at the point where the fish was last seen, you can then, very gently, slide both hands (two or three feet apart) beneath the bank and move inwards in a pincer movement. You will need a very gentle and delicate touch, much as though you are caressing your lover!
Keep your hands as low as you can as you try to stroke the underbelly of the unsuspecting fish. Remember that you will not be able to see what is going on under the bank, so you will have to identify by touch. Is it a stone, a tree root, a trout or even something horrid? If it is a fish then you will need to gently rub its underbelly whilst deciding which way around it is, then move your hands towards the head of the trout and smoothly, but firmly, tighten your grip around the gill/fin area behind the head.
You have now "tickled a trout" - but that's not the end of the story! You will now need to try to stand up, whilst maintaining your grip on the fish with both hands and get well away from the stream. If you try to throw your trout back onto land, whilst still in the prone position, apart from unnecessarily damaging your fish, it will go ballistic and there is a fair chance that the next thing you hear will be a plop, as it regains its freedom!
It may seem difficult at first, but with practice it is possible to become quite proficient. A good way to hone your skills is by trying to locate and 'catch' the soap in your bath, without looking! If you are in the happy position of owning your own woodland what could be nicer than smoking your own trout with your own wood providing the smoke?
Trout tickling has been with us for a very long time and is mentioned in Shakespeare's 'Twelfth Night' when the lady-in-waiting Maria greets the arrival of her supervisor and head of Olivia's household, the foolish Malvolio, with the words "for here comes the trout that must be caught with tickling" (Act 2, Scene 5).
---
---
Leave a comment