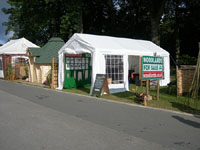 We love woodfairs - they're a great day out for all the family, with lots to see and do.  From a demonstration of a pole lathe to a display of horse logging, from intricate carved spoons to gigantic chainsawed sculptures:  there's a host of woodland or wood craft-related things to see, experience or buy.  You can even visit us at the Woodlands.co.uk stand!
Up until now it hasn't always been so easy to find out when and where woodfairs are happening, but a new website Woodfairs.co.uk that solves the problem.  Woodfairs.co.uk is regularly updated with details of woodfairs across the country.  Well worth adding to the "Favourites" list in your browser.
In the meantime, watch this video to get a flavour of what visiting a woodfair is like ...
Video by WoodlandsTV.  Lots more discussions, demos and tips at http://www.woodlandstv.co.uk/
---
Comments are closed for this post.
---
Leave a comment