Recently, I visited the Sustainability Centre in Hampshire where a brand new yurt was being erected.  Intrigued, I fell into conversation with the yurtmaker, Henry Dowell (of yurtmaker.co.uk).  He turns out to be a rather remarkable character and has himself lived in a yurt for over 4 years and learnt how to make them, mostly through trial and error - to me it looked like more trial than error!  Henry explained that he makes most of the parts out of "green ash" (ie unseasoned ash timber) which he bends using steam and that process also helps to season the wood so that it will last for many years.   All this preparation happens in what he calls his "corner of Shropshire" where ash grows very well and can be milled locally.  This creates a new market for ash which is often overlooked but is a very useful timber tree, saving it from being used only as firewood.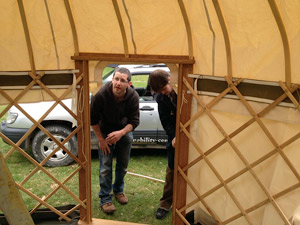 Once the lattice walls are erected around a very strong doorway the roof ribs are put in, one by one.  A strong band stops the yurt frame falling outwards and the crown is then lifted on and fixed in place.  The whole yurt frame is then covered with a fabric and this creates a structure that is weatherproof and remarkably portable.  Henry reckons he can erect a yurt in under 2 hours.  And considering the work that goes into them they don't seem expensive at £3,200 for the 12ft diameter one shown here, going up to £12,000 for the much larger 30ft yurt.
Originally invented by the Mongols, at least 700 years ago, these yurt-structures worked well for a nomadic people and the parts could be easily carried on camels or yaks across the steppes of Central Asia.  Typically these nomads covered their yurts with sheep skins and nowadays felt is often used.  Not only are they quick to erect but they are very stable and relatively light to travel with.  In recent years yurt-camping has become fashionable and yurts are often used for staying in formal campsites in many North American national parks.  Yurt-camping is also expanding at the Sustainability Centre where you can stay in a yurt for £25 per night (per person).  It's popular and they are booked up for the next 5 months, which may be why Henry was delivering a couple more yurts yesterday. (www.sustainability-centre.org)
As he ties the canvas onto his new yurt Henry explains that the cover has to be about 2% bigger than you'd think to allow for shrinkage as it gets wet and tightens. There is a lot of tying to be done and fixing ribs into holes - it is, after all, a tension structure which gains its strength not from weight and compression (as most houses do) but from the way the parts hold together - tensile strength.  The yurt-maker points out on his website that the canvas will last for many seasons, but that it needs to be cared for.  The covers of yurts imported from Mongolia have been known to disintegrate within a couple of years in UK, whereas British yurtmakers have years of experience in developing materials which are suitable to a damp, dull climate rather that the bright, dry steppes of Asia.   Looking around the Centre we see larger yurts and much older structures all of which look very lived-in.  The patterns by the doors are also very traditional and consistent with the mongol designs which use bright colours and repeating symmetrical shapes.  As I start to imagine myself staying a night or two I notice that the roofs can be opened for ventilation and many modern yurts have several windows, and have woodburning stoves and look very cosy indeed.
The yurt is part of a family of similar structures which have a circular trellis tent, a central crown and a tension band.  These are still to be found all over central Asia, from eastern Turkey through to Mongolia and China.  Henry Dowell describes his structures as 'modern British yurts derived from the ancient designs of Central Asia' and he is an evangelist for yurts - constantly educating people about yurt practicalities and history - he also does renovations ("new covers for old yurts"), supplies parts and will teach you how to make your very own yurt.
click on this to see the roof of the yurt being put in place : yurt top
---
Comments are closed for this post.
---