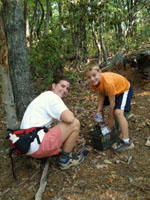 Woodlands.co.uk aims to promote ownership of woodlands by people who will conserve and enjoy the woodlands through active, hands-on management.  Very many of the buyers of small woodlands are families.  For many woodlands family ownership and management has lots of advantages over traditional methods:
- Family forestry often leads to a longer-term view with parents and children looking to a woodland staying in the family of at least two generations;
-  through ownership that includes children there is great deal of learning by doing and "learning by being there" for children and teenagers.
- family ownership usually means that a team of people are involved in the management decisions;
- extended families are often included and invited to enjoy and work in the woodlands;
The concept of family forestry has been around a long time and is well recognised in many other countries.  There is an international body working for family forest owners which claims to represent over 25 million owners worldwide; http://www.familyforestry.net.  Also Denmark, Finland, Sweden and Norway have an organisation representing family forest owners that, as one would expect, is very focused on softwood production.  Its website is at http://www.nordicforestry.org
The UK's institutions are adjusting to the new pattern of ownership that is emerging and starting to adapt their services and policies, but forestry is always a long term business and it will take a while for the ownership changes that are happening to be widely recognised.  You may have suggestions about policy changes that will be necessary to accommodate and support this "new breed of owners".  Please post suggestions here for discussion.
---
---
Leave a comment