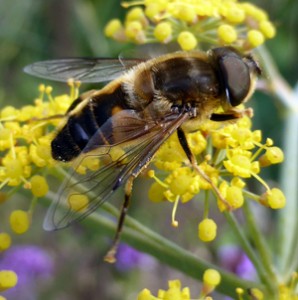 Bees are (usually) frequent visitors to our gardens.  Gardening catalogues and websites are 'always' extolling the virtues of particular flowers / plants in terms of attracting insect visitors to our gardens.  These insect visitors are important pollinators – not just for garden flowers, but also for fruit trees and other soft fruits.  But is there any evidence about the 'best flowers' to plant for insect visitors – other than "opinion and general  experience".
Now some research on this has been done by the Department of Apiculture at the University of Sussex.   The Department and Professor Ratnieks (which have featured in the woodland blog before) are involved in "The Sussex Plan for Honey Bee Health and Well being".
Much of this particular investigation has been carried out by PhD student – Mihail  Garbuzov.  The work involved recording the insect visitors to an experimental garden(s) - with some 19 different species and 13 varieties of Lavender.  The number of insects visiting particular batches / clumps of flower was recorded throughout the summer months – over two summers.  Analysis shows that some plants are much better at attracting bees / pollinators than others.  The much planted pelargoniums (in municipal parks) are not very good at attracting bees, whereas lavenders (of all types), borage, marjoram and (open flowered) dahlias attract many bumble bees, bees, hoverflies and butterflies
.
Though these flowers are important for pollen and nectar throughout the summer months, the bees and other pollinators need other to find other sources in the autumnal months; and perhaps strangely, their needs are met by the green and inconspicuous flowers of Ivy (Hedera helix).
Ivy has high quality nectar – with a lot of sugar in it.  Ivy is very important to bees and other pollinators in September and October.  Again, this research has been conducted by the Department of Apiculture at Sussex.
---
featured image : Pam Symons
Leave a comment
Subscribe to our blog email updates
Managing Your Woodland for Wildlife
A new book on encouraging biodiversity in your woodland. Available free here »