Many people have been following the various blogs (and contributing comments) on the problems that Horse Chestnut trees have faced over these last few years.  These problems include :-
bleeding canker
leaf blotch fungus
leaf miner moth
The horse chestnut leaf miner moth, which originated in the Balkans, first appeared here in 2002/3 in the South East, but it has since rapidly spread to many areas of the U.K.  The Forestry Commission has been recording its distribution, and a map is available here.  There is seemingly little that can be done (at present) to stop the advance of this insect except specific hygiene measures.
However, for the technologically minded there is now an App - LEAF WATCH available for smart phones (android and iPhone).  Whilst this will not help with the problems of any specific tree or trees, it will enable you to contribute to further research by sending a report about any horse chestnut tree in the UK.   This will allow information about the spread of the leaf miner to be collected.  Information is required on the damage to infected trees but also details of undamaged ones.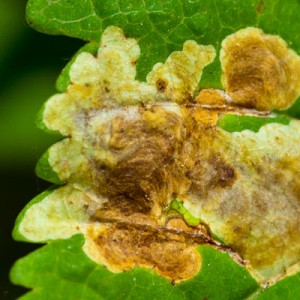 Further information about the work of scientists from the Universities of Hull and Bristol, involved in this project, can be accessed at http://www.ourweboflife.org.uk/index.html
Using the App involves taking a photo of a leaf with the smart phone, confirming your location and assigning a damage rating, plus noting what you see underneath the tree.  The photo of leaf should be one that is typical of the leaves near the bottom of the tree,  and the damage rating assigned according to the scale.
It is important to distinguish between the damage done by the leaf miner, and that done by the leaf blotch fungus (creates patches that are brown edged with yellow).  Often the larva can be seen through the translucent (epidermal) tissue of the leaf - the internal tissues have been ingested by the animal (see 'featured'  / top photograph).
Leave a comment
Subscribe to our blog email updates
Managing Your Woodland for Wildlife
A new book on encouraging biodiversity in your woodland. Available free here »