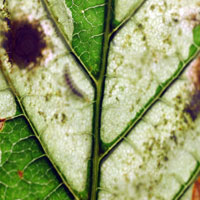 cankerBack in 2006, the Woodlands blog commented on the problems facing horse chestnuts, namely disease ( leaf miner moths, leaf blotch fungus, bleeding canker) and drought. The last of these may have disappeared for the time being as we have just experienced one of the wettest Augusts on record, however bleeding canker and the leaf miner continue to be problematical and are spreading.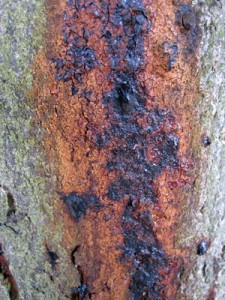 Bleeding Canker
The Forestry Commission has recently surveyed many hundreds of horse chestnut trees (in towns and in the country) and found that almost half of them showed symptoms of the disease bleeding canker  with trees in the south-east being affected more often than others. Detailed information and advice on bleeding canker can be found on their website. Wherever there is dieback of branches in the canopy, then trees must be checked by a qualified arboriculturist so that appropriate management can be undertaken.
Leaf Miner Moth
Maps of the distribution of the leaf miner (between 2003 and 2007) show that it has spread extensively since it was first reported in Wimbledon in 2002.  It is spreading at a rate of some 40-60 km per year. Whilst the adult moths can fly, it is thought that cars and other vehicles assist their dispersal and may also spread infected leaf material.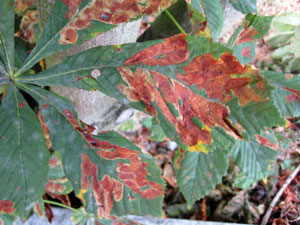 The leaves of trees infected by this moth turn brown and by late August to September many fall prematurely from the tree. The Forestry Commission website says that this damage is primarily an aesthetic problem, and there is no evidence that infestation, on its own, causes dieback or a decline in tree health, or tree death. The Forestry Commission offers a number of suggestions about managing the leaf miner problem, mainly through the disposal & composting of infected leaves. If leaves are removed then so are the over-wintering moth pupae, which would otherwise form the first generation of moths to attack the tree in the spring.
The Commission continues to monitor the spread of this moth, and is keen to receive information and records of infected trees in areas not included on the 2006 map. Further information on the horse chestnut leaf miner can be found in the Exotic Pest Alert.
Leave a comment
Subscribe to our blog email updates
Managing Your Woodland for Wildlife
A new book on encouraging biodiversity in your woodland. Available free here »