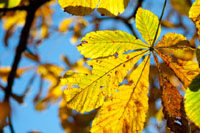 The Woodlands Blog has previously reported on the threats facing the Horse Chestnut tree in the UK,  specifically: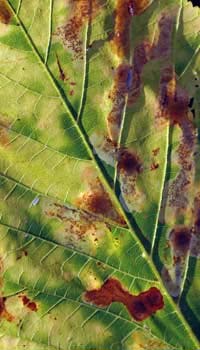 The moth Cameraria ohridella or the Horse chestnut leaf miner that lays its eggs in the leaves.   The larvae that hatch from these eggs eat and tunnel their ways through the tissues of the leaves.  In consequence, the leaves turn brown in early summer and may be shed from the tree.
Leaf Blotch fungus, Guignardia aesculi; this attacks the leaves so that reddish or brown blotches with yellow borders develop.  The blotches may, at a distance, look similar to the damage done by leaf miner.
However, the most damaging condition seems to be bleeding canker.  The number of reports of bleeding canker on horse chestnut has significantly increased in recent years.  The cause of the disease has now been established.  It had been thought that the condition was due to a fungus-like organism Phytophthora, different species of Phytophthora are known to be responsible for a number of plant diseases, such as sudden oak death.
However, DNA analysis of damaged and diseased tissue has established the presence of a bacterium Pseudomonas syringae pathovar aesculi. The same bacterium is known to infect the Indian Horse Chestnut (Aesculus indica); it is possible that the bacterium was introduced on imported trees.  The Netherlands and Germany also have Horse Chestnuts with bleeding canker, and have also demonstrated the presence of Pseudomonas in infected trees. The working group Aesculaap has produced some advice on the handling / treatment of diseased horse chestnut tree, which can be accessed from their home page
They have been reports in the press of a new treatment for horse chestnuts with bleeding canker.  The treatment involves infusing the tree with allicin.  Allicin is derived from garlic (Allium sativum) and has anti-bacterial and anti-fungal properties.  The treatment is presently offered by a Yorkshire based company JCA , working in conjunction with Allicin Tree Care, which is based in the Netherlands.
Comments are closed for this post.
Leave a comment
Subscribe to our blog email updates
Managing Your Woodland for Wildlife
A new book on encouraging biodiversity in your woodland. Available free here »