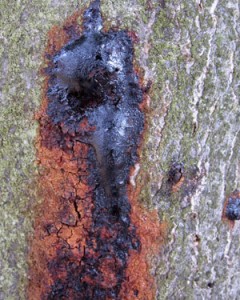 The woodland blog has been reporting on the various threats to the Horse Chestnut tree for some years: see blogs for May 2006,  Aug 2006 ,  Sept 2008 and Dec 2009 .    Basically, the tree is under attack by : -
Bleeding canker.  The number of reports of bleeding canker on horse chestnut has significantly increased in recent years.  The cause of the disease has now been established.  It had been thought that the condition was due to a fungus-like organism.    However,  DNA analysis of damaged and diseased tissue has established the presence of a bacterium Pseudomonas syringae pathovar aesculi. The same bacterium is known to infect the Indian Horse Chestnut (Aesculus indica); it is possible that the bacterium was introduced on imported trees.
A leaf blotch fungus, or Guignardia aesculi .   This attacks the leaves so that reddish or brown blotches with yellow borders develop.  The blotches may, at a distance, look similar to the damage done by leaf miner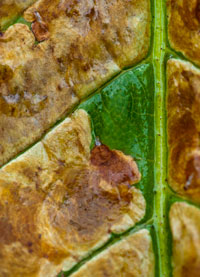 The horse chestnut leaf miner moth, or Cameraria ohridella that lays its eggs in the leaves.   The larvae that hatch from these eggs eat and tunnel their ways through the tissues of the leaves.  In consequence, the leaves turn brown in early summer and may be shed from the tree.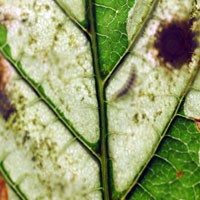 The  trees are weakened by these various attacks, losing vigour and vitality as the leaves use light energy to build up sugars and other materials for the plant's growth and development.


This month a national survey is being  launched to investigate the spread of this moth – visit the our web of life website for details about the moth, and also the small parasitic wasp that may help control the moth. Dr Darren Evans gives details of the survey, the moth and wasp in the BBC's Material World program,  which can be followed on the BBC iPlayer.
See also http://www.hortweek.com/channel/arboriculture/article/1009873/Scientists-urge-people-log-leaf-miner-survey_LR/
---
---
Leave a comment