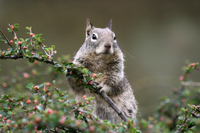 As reported in the woodlands blog last year, the red squirrel population in the UK is under threat. One of the threats is the parapox virus. This virus seemingly does little harm to grey squirrels (who act as a reservoir of infection); but red squirrels, once infected, develop skin ulcers,swellings around the eyes, mouth and genitals; it is not dissimilar in its effects to the myxomatosis virus in rabbits. An infected red squirrel will die within 15 days.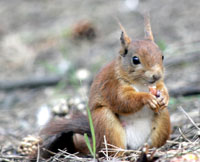 The first reports of this disease in red squirrels were from East Anglia in the 1970s. Whilst its spread has been documented across the U.K., there have been no reports of infected red squirrels in Scotland until now. Earlier this month, a diseased animal was examined in the South of Scotland Wildlife Hospital (Dumfries), and Edinburgh vets subsequently confirmed squirrel pox.
People are asked not to encourage the meeting of the two types of squirrels, for example through the use of feeders; and to be on the look-out for, and report red or grey squirrels that are ill.
Leave a comment
Subscribe to our blog email updates
Managing Your Woodland for Wildlife
A new book on encouraging biodiversity in your woodland. Available free here »