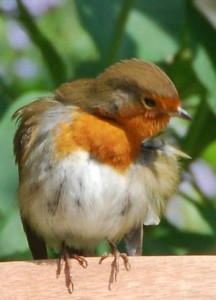 The first blog in February talked about the revival of interest in Phenology over the last few years.
Already this year is providing interesting phenological facts and figures.   January has proved to be the warmest in the UK since 1916; there was 17% more sunshine and 21% more rain than normal.
On the 23rd January, Robin chicks hatched in Roehampton. The mother laid her eggs in a Christmas wreath decoration,
during the holiday period. Robins normally pair up around Valentine's Day, so egg laying and hatching are weeks ahead.
Snowdrops and Blackthorn are also well advanced. The maps at Nature's Calendar and Springwatch show that many of the 'typical' signs of Spring are already spreading across the country. Buff tailed bumblebees have been seen foraging in gardens and the behaviour of some migratory birds seem to have changed.
The next few years will begin to tell us whether nature can adapt and synchronise to the UK's changing climate.
Leave a comment
Subscribe to our blog email updates
Managing Your Woodland for Wildlife
A new book on encouraging biodiversity in your woodland. Available free here »