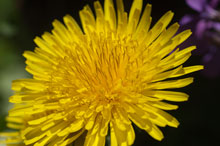 For some ten years now , the BSBI has organised the New Year Plant Hunt.  Each 'hunt' has involved people looking to see which plants are in flower during the first few days of the New Year.  The volunteers 'hunt' for wild flowers in their area for about three hours; and send the results to the BSBI. By doing this, the volunteers are helping build a clearer picture of how our wildflowers are responding to changes in our autumn and winter weather patterns.
This year, the BSBI received over 21,000 plus records of plants in flower, which revealed some 710 different species.  Observations were made from all over the UK.
The most frequently recorded plants in flower were
Daisy (Bellis perennis)
Groundsel (Senecio vulgaris)
Dandelion (Taraxacum sp agg)
Annual Meadow Grass (Poa annua)
Smooth sow thistle (Sonchus oleraceus)
Full details of the 2021 New Year Plant Hunt can be found at the BSBI website, including comparisons with the findings of previous years.
---
---
Leave a comment
Subscribe to our blog email updates
Managing Your Woodland for Wildlife
A new book on encouraging biodiversity in your woodland. Available free here »