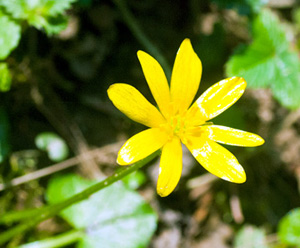 The lesser celandine (Ficaria verna) is a woodland plant that is to be found flowering in the early months (February & March) of the year, indeed Blamey, Fitter and Fitter refer to it as "one of the first heralds of Spring".  Its rich, bright yellow flowers can form a carpet under the empty, leafless canopy of woodland (like bluebells, they take advantage of the light that is available for growth at this time of year). They are also to be found in hedgerows, the sides of streams and churchyards.
The flowers of the lesser celandine can be an important source of nectar for early insects, such as bumblebees emerging from hibernation. Its distribution map indicates that is quite widespread across the country. The plants tends to like moist, damp soils, and emerge from small, underground tubers (sometimes referred to as tubercles) to form dark green, heart-shaped leaves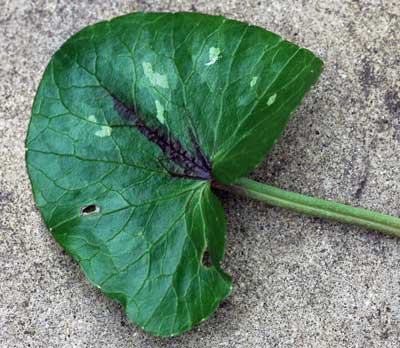 with quite long leaf stalks (petioles).The leaves may sometimes have light and dark patches on them.The appearance of these tubers may have given rise to one of the other names for this plant – pilewort.  In the past, the use of many plants used in herbal medicine was assigned using the 'doctrine of signatures'.This suggested the use of a particular plant could be determined by looking for the sign or signature that God had provided as to its use.  Thus, the speckled leaves of lungwort (Pulmonaria) blue-green leaves with whitish spots were thought to resemble diseased lungs, and therefore would be useful for respiratory problems.
The lesser celandine is a member of the buttercup family (Ranunculaceae) and like many plants belonging to this family, it is toxic. It also shares another feature with other members of the buttercup family - highly reflective yellow petals.  The epidermal (outer) cells of these petals are filled with pigment, and the cells beneath are packed with white starch grains – which probably contribute to their bright and shiny nature. The number of petals in each flower varies between 8 and 12.  As they age, the petals sometimes fade becoming white.
The plant was originally named a celandine because its flowers resembled those of the greater celandine but botanically speaking, the greater celandine is very different and a member of the poppy family. There are a number of sub-species of the lesser celandine, which vary in their chromosome number. There is a detailed note about their taxonomic status in Watsonia  [former Journal of the Botanical Society of the British Isles] , Vol 27, Part 3, February 2009.
Note : If the lesser celandine establishes itself in a garden, then it can be very difficult to eliminate.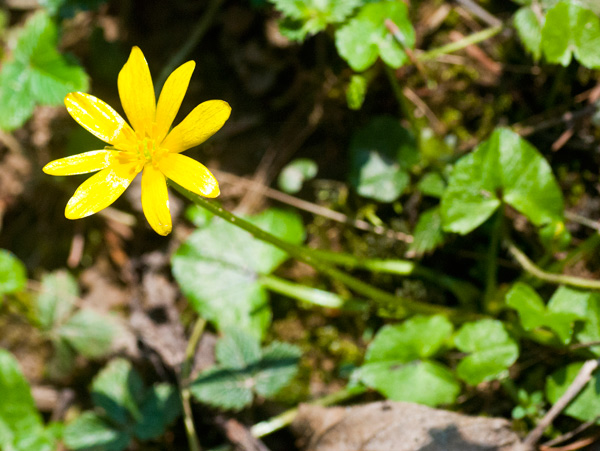 Leave a comment
Subscribe to our blog email updates
Managing Your Woodland for Wildlife
A new book on encouraging biodiversity in your woodland. Available free here »