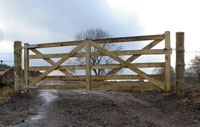 Ideal tools for the job:
Posthole digger/Double shovel – these are two shovels connected together designed for digging holes. Available from farm suppliers and DIY stores
Breaker bar - A large, heavy steel bar with a point on the end generally used for breaking concrete or stone. Some stores sell breaker bars with a point on one end and a flat plate on the other end (which is preferable for tamping the backfill around your post) Available from farm suppliers and DIY stores
Spirit Level  - For making sure your post is straight
Tape measure – For  measuring the depth of the hole
Tamper – If you are unable to find a breaker bar with a flat plate you can always use a sledgehammer handle or flat-edged, straight branch from your woodland.
Cement 
Water 
Postcrete – ready mixed concrete that dries in 15minutes. Costs roughly £4-£7.  Available from farm suppliers and DIY stores
Ground conditions
There are three main types of ground :
Clay – I find clay the easiest to work with, except for it sticking to your shovel. It's easy to pull out of the hole and is very moist. When it comes to backfilling around your post, it's very good for compacting and if done properly you don't need to use cement or concrete.
Soil – Soil is easy to dig into. When it comes to packing around your post, if the soil is very loose, sprinkle dry cement in the hole along with some small stones and tamp them down.
Stony – If you need to dig into stony ground, persevere! With a breaker bar you can eventually get down to your required depth.  If not, and you hit an unbreakable stone hopefully at least a foot or more deep (ideal depth is 2.5 or 3 foot) you can pour a wet concrete mix in the hole around your post, and leave for 24 hours to set. Alternatively, if you are in a hurry, you can use Postcrete, which sets in 15mins.
Fitting the post 
Dig your hole to the required depth, 2½ – 3 feet if you can.  The heavier the gate the deeper the hole needs to be.  Place the post in the hole, get it level with the spirit level, and then backfill a small amount of earth around the sides. Make sure there is enough room all the way around the post for your tamper to reach the base of the hole. It is very important that you get the backfill very compacted at the bottom, because if it is loose at the base but compacted nearer the top, the post will pivot! You can tell if it is compacted well by backfilling about 4 – 5 inches - your post should be freestanding. You can then get the post straight again with the spirit level. Always place the level on the same sides of the post, e.g. the front and one side, otherwise you can get a misreading on the level. Just keep backfilling bit by bit and hey presto! you should have a solid post.    
see more demos and tips on Woodlandstv.co.uk 
---
Comments are closed for this post.
---