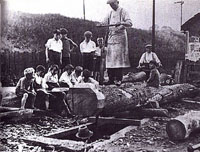 These are often very difficult to spot, so I won't spend too long describing them. They are not as ubiquitous as charcoal burners' platforms, and many were situated at woodyards, rather than within woodland.
A sawpit was a hole dug in the ground, probably about 6 foot deep and between 12 and 15 foot long and about 4 foot wide.  It was where a log could be cut into planks (rip sawn) using one of those two-handled saws with enormous teeth you often see hanging on the wall in pubs.  The hole was sufficiently deep for a man to stand and pull one end of the saw down, while the other sawman was standing on top of the log pulling the saw up and keeping a straight line.
Typically, what's left of the sawpit now is a slight depression with a bank on one side.  Sometimes the hole is quite deep and the bank quite pronounced.  From the dimensions above you may have realised that the hole was longer than it was wide.  The sawpit will have been aligned so that the long side was at right angles to the direction of the slope.  And the soil from the hole made into a bank on the downhill side.  Rarely will you find sawpits at the top of a hill (although I think I've just found two in just such a position) – they are usually towards the bottom of a slope so that least effort was required to get the log to it.  They can be situated near trackways, a position which would have facilitated removal of the finished product, but many are not.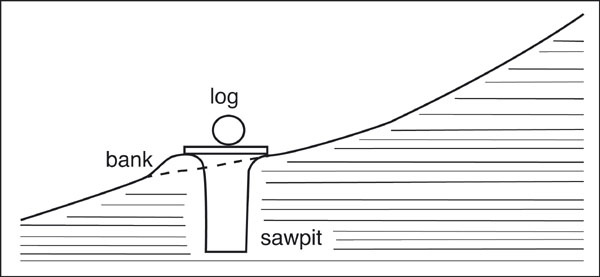 There are often small depressions in woodland and sawpits are particularly difficult for an expert to interpret, so I'm not expecting you to be able to say you've got one on the basis of my description here.  To be more certain, you should get someone with some knowledge to have a look at it – and even then he or she may well say 'Well, it might be …'.
When it comes to recording it, all you have to do is to measure its approximate length and width and roughly how deep the depression is and how high the bank is.  If you can get its position accurately, so much the better, and an idea of its orientation in degrees if you have a magnetic compass.  It should look as though the hole was once rectangular – if it is looking more curved than straight, you could be looking at something else.  Don't forget, it's always important to record it if you think it's man made, than to work out what it was used for.  That can come later – finding it was the most valuable thing you could do.

David Brown
South East Woodland Archaeology Forum

Reproduced by kind permission of the Small Wood Owners Group
Comments are closed for this post.
Leave a comment
Subscribe to our blog email updates
Managing Your Woodland for Wildlife
A new book on encouraging biodiversity in your woodland. Available free here »