Collecting food from the wild is definitely something to take advantage of if you have the opportunity to do so and I am sure many people have at least gathered blackberries from the wild.
Summer and autumn are both excellent times for wild fruit. These can be munched straight from the plant or made into a variety of puddings, drinks or jams. I have found all of the following in woodlands:
Cherries
Wild Strawberries
Raspberries
Blackcurrants and Redcurrants
Bilberries
Gooseberries
Blackberries
If you can beat the squirrels to them, Hazelnuts, Walnuts and Chestnuts are very good nuts for collecting.
You may come across many plants in and around woodlands that are edible - I have listed some of my favourites below. When collecting, an obvious point is to be sure you have correctly identified what you are picking, this is especially important with mushrooms! There are some very good books available to help you do so (e.g. "Food for free" by Richard Mabey).
Hairy bittercress (Cardamine hirsuta)
This is often found growing in the winter months when there is little else available. Good in sandwiches and salads.
Sorrel (Rumex acetosa)
Often used by the French in sauces, these lemony flavoured leaves make a good addition to salads, and also a good soup.
Wild Garlic/ Ramsons (Allium ursinum)
Delicious finely chopped with cream cheese, in tomato dishes and as a soup.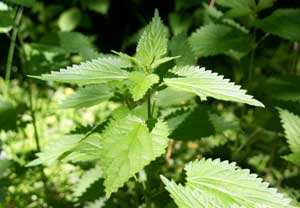 Stinging Nettle (Urtica doica)
A good spinach substitute - full of vitamins. Tasty with mashed potato. Good in soups, Lasagne and stews.
Watercress (Rorippa nasturtium-aquaticum)
One of my favourites. Be sure to collect from fast flowing water as it can be host to Liver Fluke. Very good in salads and soups.
If you are collecting leaves always try to cut or pinch them off, leaving the roots intact.
A Recipe for Sorrel/Ramsons/Nettle/Watercress soup:
Two good handfuls of Sorrel/ Ramsons/ Nettle or Watercress
Onion
2 potatoes, chopped
good knob of butter
salt and pepper
cream to taste
Chop and fry the onion in the butter. Add potatoes, cover with water and boil till almost tender.
Add greens right at the end and cook until wilted (couple of minutes). Blend in food processor, season and add as much cream as you like!
---
Comments are closed for this post.
---
Leave a comment