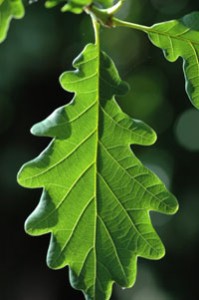 Acute Oak Decline (AOD) is disease that affects oaks. It is a serious concern for all owners of oak woodlands. At a conference organised by the RFS this April, Sandra Denman, a Forestry Commission pathologist and research scientist, set out the result of her researches into this condition which can ultimately lead to the death of oaks. She explained that Acute Oak Decline is a complex condition which is a progressive disease of both pedunculate and sessile oaks. It appears in two forms - in foliage and in the stem (trunk). Acute Oak Decline has probably been in the UK since the mid 1990s but was only fully realised in 2008.
What particularly concerns the Forestry Commission is the recent increase in reported cases. In 2009 there were 45 cases reported, up from 10 in 2008. Acute Oak decline affects trees in some English woodlands in an area roughly between Ipswich and Shropshire. Denman's department has experimented with inoculating logs to see what effect the bacteria have. Their current plan is to establish the extent of the problem geographically, to see how management might reduce the spread of the disease and to share knowledge about Acute Oak Decline.
The disease affects mostly older tress and is similar to a condition affecting Spanish oaks.  Such tree diseases appear to be more common than in the past and this may well be because of increased travel which spreads disease and woodlands which have just one or two species allowing conditions to spread. Diseases such as AOD can be transferred between woodland on boots, machinery or car tyres. Speaking at the tree diseases conference, Keith Kirby suggested that woodland owners would best protect their woodlands by making them resilient with a good mix of tree species and of ages.
Leave a comment
Subscribe to our blog email updates
Managing Your Woodland for Wildlife
A new book on encouraging biodiversity in your woodland. Available free here »