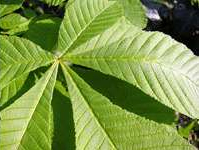 We reported in this blog back in May that Horse Chestnuts were under threat from the leaf miner moth (Cameraria ohridella) and the fungus (Guignardia aesculi). Not to mention the effects of drought!
Now there is another, greater threat to these stately trees – namely Bleeding Canker.
The first symptom is often an area of bark where a yellow / brown / red liquid seeps out. In the spring, this coloured fluid is usually transparent but in warmer weather it may become cloudy. When it is dry and hot, the flow may dry up - leaving a dark crust on the bark. However, the bleeding may start up again in the autumn. These observations have lead to the suggestion that the pathogen is most active when conditions are mild and moist (i.e. in spring and autumn).
Where the pathogen has been active, bark, cambial tissue and the phloem (the sugar conducting tissue) are destroyed. If this damage spreads around the trunk then more general effects will be seen, namely yellowing of the leaves, early leaf fall, failure to set fruit (no conkers!) and damage to the crown of the tree; branches may be weakened and fall. This sort of damage may well prove to be a major problem to local authorities as Horse Chestnuts are common in parks, streets and other public places. A recent
front page article in the Independent sought to raise public awareness of this issue.
It was thought that Bleeding Canker was caused by a fungal pathogen, possibly a form of Phytophora. However, research in the UK and the Netherlands (where perhaps 1 in 3 trees are affected) now suggests that a bacterium may be responsible for the disease.
The disease affects trees ranging in age from young saplings (10-15 years) to mature trees. Forestry Research Scientists have estimated that some 35,000 to 50,000 trees are already infected and the disease is quite widespread; just as the Elms were devastated by fungal disease in the 1970's so Horse Chestnuts may be lost over the next decade.
The Research Agency of the Forestry Commission is collecting information about the spread of the disease: further information and survey forms can be found at their website.
Leave a comment
Subscribe to our blog email updates
Managing Your Woodland for Wildlife
A new book on encouraging biodiversity in your woodland. Available free here »