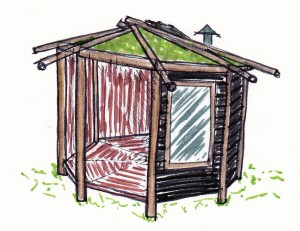 This summer, my family and I are building a wooden summerhouse from scratch in our garden. I have designed the building myself and it will be an octagonal structure with a 'green' roof, external deck and space for seating and a small woodburner inside.
The process began last winter, when we salvaged the timber required for the structure from the many windblown trees resulting from the winter storms. We did this a few months in advance of actually starting construction to give the wood a chance to season a little and reduce in weight before we started having to handle it. We selected a range of Douglas Fir poles of varying diameters to suit different parts of the building. While the wood was drying out we steadily peeled off the bark using drawknives.
When spring arrived, it was time to begin building. The first step was to set out the 8 corners of the octagon and dig a 70cm deep hole at each of these points.  A layer of gravel was place at the base of each hole to aid drainage.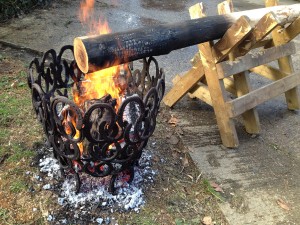 To help preserve the ends of the posts going into the ground, we decided to char them. We did this by suspending the post over a small fire and gradually rotating the pole to achieve an even amount of char all round. The ends were then painted with bitumen for extra protection. When dry, the posts were 'planted' in the ground and tamped down firmly.
The next stage was to complete the 'henge' by adding crosspieces between the tops of the posts. The crosspieces were half-lapped and fixed to the top of each post for stability. This will form a solid base for our roof.
The construction of the roof and the development of the summerhouse will be described in a follow-up article.
Leave a comment
Subscribe to our blog email updates
Managing Your Woodland for Wildlife
A new book on encouraging biodiversity in your woodland. Available free here »