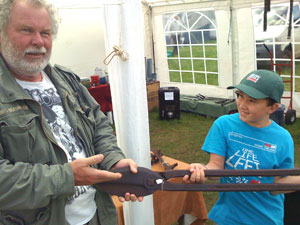 Why do people buy old tools?  According to Ian Fraser, who sells hundreds of antique tools each year, they are mainly bought to be restored and used.  Tools such as billhooks and draw knives can be expensive to buy new and often the older tools have blades which can be more easily resharpened. Indeed one of Ian's favourite hand tools is a portable scythe anvil (see photo below).  This is a small anvil which could be carried in a rucksack and hammered into the ground so that when one's scythe or billhook became blunt of bent one could sharpen or straighten it out in the field or woodland.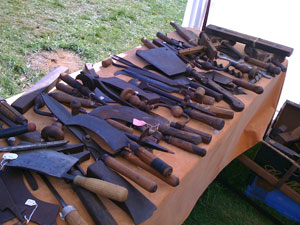 Ian's background is in antiques but he has made a specialisation of old tools for working in woods and for working with wood, though he also sells old gardening and kitchen implements.  His policy is one of low pricing with almost all his tools priced between £5 and £15.  If there is a particular tool you want you could email Ian at [email protected].  Or phone 07807 325299.
Many of his tools are sourced from France where Ian mainly frequents "brocantes" (second-hand shops) in the Loire Valley.  Many buyers of antique wood-related tools are green woodworkers and hedgelayers, but many are also bought by people who work in their own woodland.  Some buy drills, planes, scribes, and draw-knives as ornaments - in most cases buyers prefer to restore and sharpen the blades themselves.
Often these antiques are over 100 years old so that sometimes the wooden handles have been attacked by woodwork and need replacing.  Buyers are also attracted by the range of old axe blades and because of their unusual shapes these have been especially popular with people doing battle re-enactments!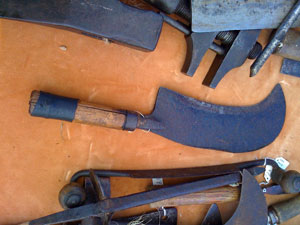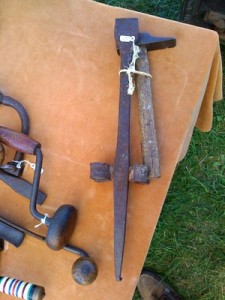 Leave a comment
Subscribe to our blog email updates
Managing Your Woodland for Wildlife
A new book on encouraging biodiversity in your woodland. Available free here »